Capital.com Review 2022
Brokerages are our gateway into the world of trading. These services provide you with access to a range of different investment products and assets. In doing so, they facilitate your journey to financial freedom through the purchase of assets that could appreciate over time.
Not all brokerages are created equal and every new trader must select the right brokerage for them. Each brokerage account will provide its users with its own unique set of tradable assets, subject them to its fees, and implement its tools and resources for users to inform their trading decisions. 
Throughout this capital.com review, we will examine the strengths and weaknesses of the capital.com investment platform as well as explore its features, fees, and how to place your first trade. If you are interested in starting to trade CFDs, this capital.com review may be for you. Let's get started!
What is Capital.Com?
Founded in 2016, capital.com is a global CFD trader with offices in the United Kingdom, Gibraltar, Cyprus, Belarus, and Seychelles among other places. Capital.com is currently able to service users in over 170 countries across the globe.
At the time of writing, capital.com offers its users access to over 6.000 tradable assets from a multitude of asset classes. By any comparison, this is an impressive range of assets that would likely satisfy the requirements of most traders. The platform distinguishes itself through its high-quality investment research, educational materials, and intuitive design making it a brilliant choice for both new and experienced traders. 
Pros
Education & Research - A firm grounding in your trading education is important for every trader. Being well aware of this, capital.com spares no expense when it comes to the educational content it provides its users. They offer high-quality educational articles, newsroom-grade research articles, video-based educational content, and various online courses/guides targeted toward beginner-level trading education. 
Range of Assets - Unlike some other brokerages, capital.com does not focus on any specific asset class. This allows it to offer you a wide range of assets that you can either trade CFDs or hold for the long term. If you are the type of trader who prefers to have all of your holdings within a single account, you must sign up for a brokerage that can provide all the assets you wish to trade CFDs on. Thankfully, capital.com have a significantly comprehensive range of assets and is likely to satisfy your requirements in this regard.
Cost - We often bring attention to the fact that the fees and commissions charged by your brokerage can have a massive impact on your overall return over time. Therefore, it is vital that you find a brokerage that is competitive with its fee and commission structure. Thankfully, capital.com is reasonably competitive in this regard. We will cover its fees and commissions in more depth throughout the fees and commissions section below.
Cons
MetaTrader 5 - Regrettably, capital.com does not provide access to the popular MetaTrader 5 platform. This platform is regularly used by active traders and is especially desired by forex traders. If you are looking for a platform to trade forex and are not willing to compromise on access to the MetaTrader platform, capital.com may not be the brokerage for you. 
Licenses - Unfortunately, capital.com is not licensed in as many tier 1 jurisdictions as we typically like to see when reviewing our brokerages. Although this does not necessarily make them unreliable, it is certainly something we hope to see progress over time. 
Availability - We noted at the outset that capital.com can service clients in a large number of jurisdictions. However, it is currently unable to offer its services to US-based clients. As such, if you are a United States citizen, you will need to look elsewhere for your brokerage services. Although the exclusion of one jurisdiction may not seem like a significantly negative point, when you consider the considerable number of retail traders/investors within the United States and the strength of the U.S regulator, it is disappointing that capital.com is unable to operate in the United States.
Is Capital.Com Reliable?
The safety of your funds should be your main concern when determining which brokerage service you should trust with your investments. When you are selecting a new brokerage service, you should always make sure that your brokerage has a proven track record when it comes to security.
Unfortunately, at the time of writing, capital.com is not publicly traded nor does it operate its own bank. We usually prefer that our brokerages are publicly traded or operate their own banks as this results in stricter regulation and higher standards of corporate governance.
Further, while capital.com is not regulated in as many jurisdictions as we usually like to see, we are happy to report that they are currently regulated by Australia's ASIC and the United Kingdom's Financial Conduct Authority (FCA). Besides these, Capital.com is also regulated by CySEC, FSA, and NBRB.
Capital.com Platform & Features
Capital.com Mobile Application
These days, you will be hard-pressed to find a brokerage service that does not have an accompanying mobile application. Unlike most other brokerages, capital.com has 3 unique apps. Its first mobile application is the capital.com proprietary trading application that you can use to manage your portfolios and place trades/purchase assets. Beyond this, capital.com has its own unique education application called Investmate. New traders can download this application and begin to expand their knowledge of finance and trading. Finally, capital.com has its own MetaTrader 4 application for those of you who wish to trade using this platform from your phones. These applications have all been known to be highly user-friendly and implement well-designed charting software to make trading on these applications as efficient as possible. When it comes to mobile applications, capital.com has thought about everything!
Market Research
Capital.com offer its users access to theme-based market commentary on its website. Beyond this, it also offers them access to a long list of articles focused on recent events and analyses. This will include both technical analysis and a discussion about the underlying fundamentals of the asset. The level of research offered by capital.com far and away exceeds the amount of research offered by the majority of brokerage services. 
Education
Education is important for every trader. While success is not guaranteed when trading or investing, lacking the fundamental level of education necessary to make the right decisions will almost certainly end up costing you a lot of money. Regrettably, when it comes to finance, luck will only take you so far. Being well aware of this, capital.com has spared no expense when it comes to the education of its users. As we have mentioned, capital.com has an entire mobile application dedicated to the education of its users. Beyond this, the level of research and educational content available through its Learning Center make capital.com a truly excellent choice for new traders who are keen to develop their understanding of the world of finance. 
Capital.com Leverage
When it comes to features, none is more sort after than the infamous leverage. Many of those who are considering a new brokerage account will be curious about how much leverage is being offered. At the time of writing, capital.com offers all retail clients the standard level of 1:30 leverage set by ESMA. It should also be noted that capital.com offers its users access to leverage-based instruments known as CFDs. We strongly recommend that you exercise caution when implementing the use of leverage in your trading as it magnifies both profits and losses.
Capital.com Fees & Commissions
Unfortunately, new traders regularly overlook the fact that fees and commissions can have a significantly detrimental impact on your overall return. In short, fees and commissions can take such a toll on your overall return that many of you could lose years of returns over your investing lifetime if you were to open a brokerage account with high fees and commissions. With that in mind let's take a look at the fees and commissions that capital.com charges its users.
Forex CFD Fees
According to the capital.com website, the average spread on major currency pairs is 0.8 pips. 
Overnight Fees 
Capital.com does not charge its users any overnight fees for positions not closed at the end of a trading day or before a weekend. However, capital.com charges an overnight fee that is based only on the leverage provided rather than the entire value of your position for Cryptocurrencies, Shares and Thematic Investments.
Minimum Deposit
The minimum deposit of your accounts is 20 by card, 250 by wire transfer. Check out this article to learn more about capital.com's minimum deposit and deposit methods.
Overall, we believe that capital.com is mostly in line with the industry averages on its fees and commission structure. These days, most brokerages will not charge withdrawal or inactivity fees, and the spreads and commissions that capital.com do charge appear to be more than reasonable. Similarly, the low-level minimum deposit on standard accounts removes the barrier for new traders who may not have significant capital to invest. Low minimum deposits allow traders with small amounts of capital to regularly transfer money into their brokerage accounts. Since capital.com intends to tailor a lot of its service to inexperienced traders, it makes sense that it would not adopt a high minimum deposit policy for standard accounts. 
What Can You Trade On Capital.Com
There are a wide range of tradable assets available on capital.com. Let's take a look at exactly what is on offer.
CFDs
CFDs are leverage-based financial instruments that allow users speculate on various financial markets. With capital.com, you will be able to trade CFDs on a number of different asset classes. This includes stocks, forex, indices, commodities, and cryptocurrencies. With CFD trading available in over 6.100 markets, capital.com offers greater exposure to global financial markets.
Spread Betting (Only for UK clients)
capital.com offers its users spread betting on stocks, forex, commodities, indices, and cryptocurrencies. With no fees and over 6000 available markets, capital.com is an excellent choice for traders looking to take advantage of spread betting.
Real stocks
Stocks are a retail investor favorite and capital.com certainly has a fair few stocks available. capital.com has the shares of over 1.000 top companies available on its platform. Real stocks are available only in the UK and some EU countries.
How to Open an Account
Naturally, the first step to setting up an account with capital.com is to head over to the website and select the "trade now" option. The account opening process is efficiently streamlined to ensure that the entire process should not take longer than 20 minutes if you have the relevant documentation to hand. It can take up to 24 hours for your account to be approved and verified once your application has been submitted. As you can see in the image below, you will have the option to open your accounts with Facebook, Apple, or E-mail.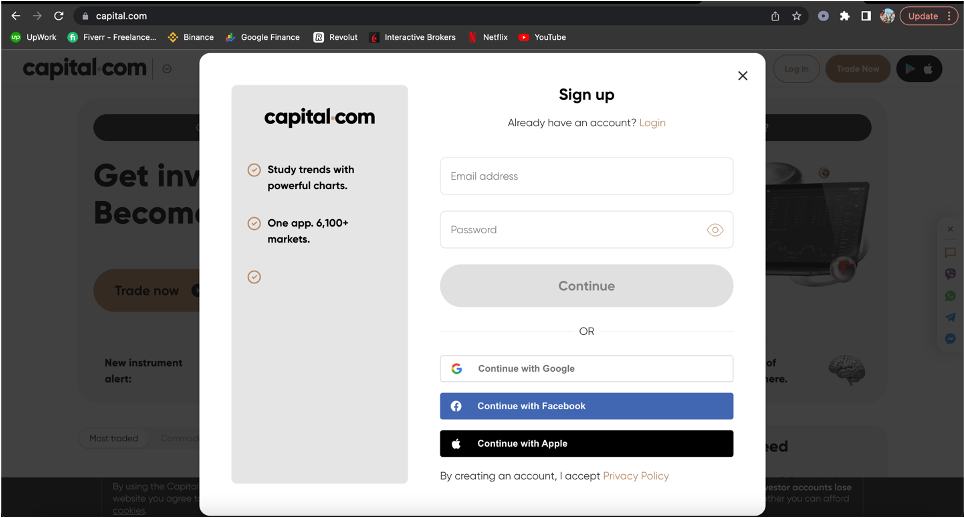 As is the case with every other brokerage service, you will be required to provide capital.com with some personal information. For regulatory reasons, this will include your residency and nationality. If you fail to provide accurate information at this stage, or information that is inconsistent with other details, capital.com will contact you within 24 hours to clarify any issues.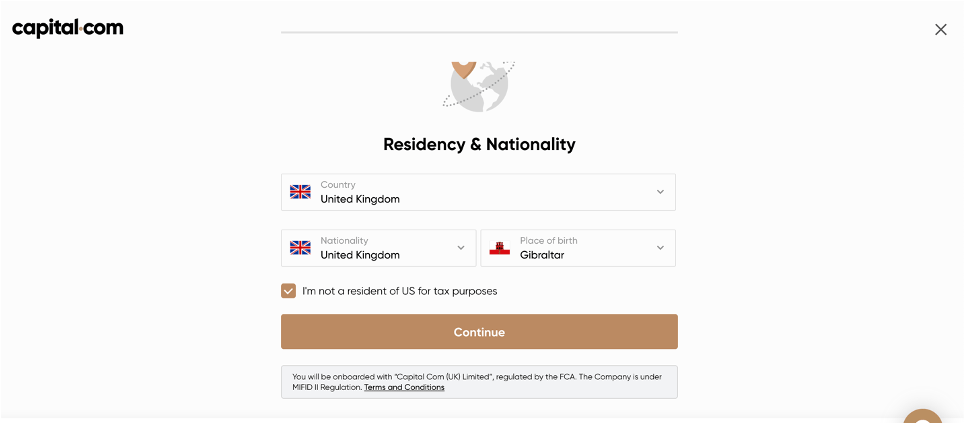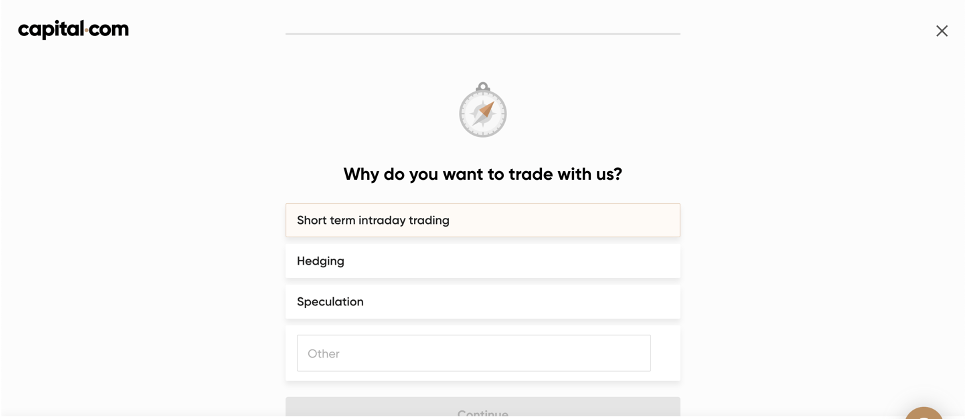 Further, capital.com will also want to know what your reasons will be to trade with them as well as the source of your income. This information will be useful for further developing the services that it offers its users.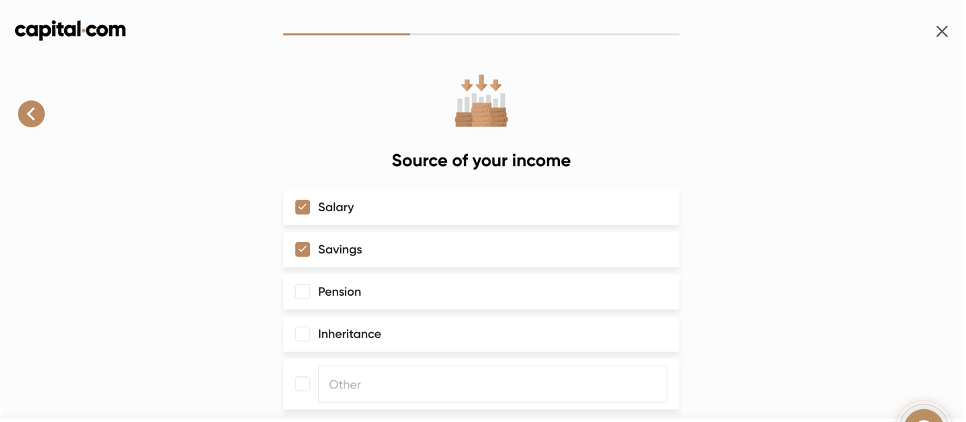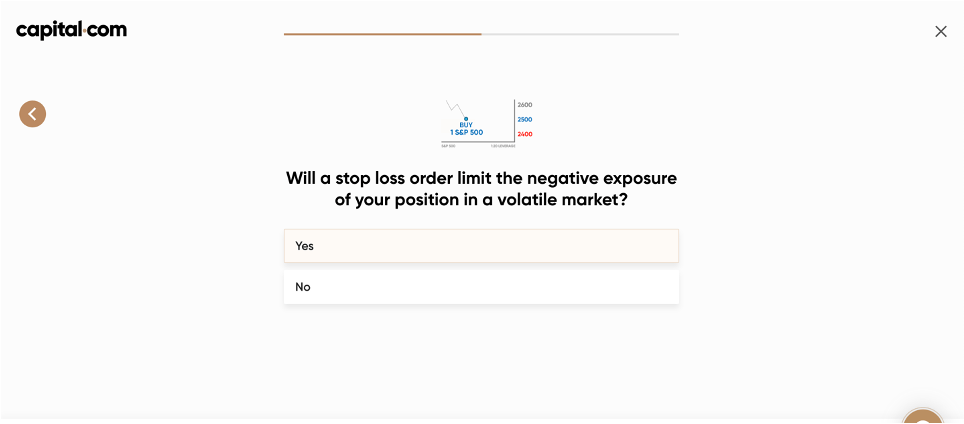 Lastly, capital.com will attempt to discern your level of education before opening your account. As you know, trading in the financial markets is a risky activity and so capital.com attempts to ensure that its users have a basic understanding of the capital markets prior to opening an account.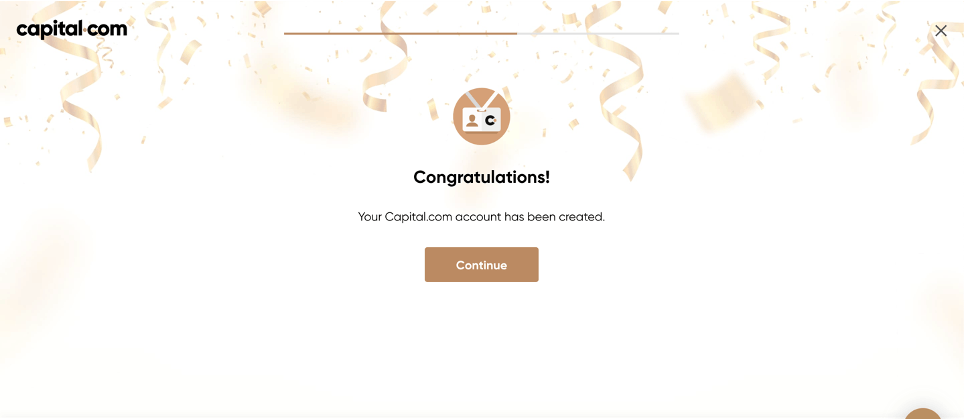 That's it! Once you have submitted the relevant documents and answered all of capital.com's questions, your account will be activated within 24 hours!
How to Trade Forex CFDs on Capital.Com
Now that your new capital.com account is activated, you may want to place your first CFD trade. Let's take a look at how you can do just that using the GBP/USD currency pair as an example!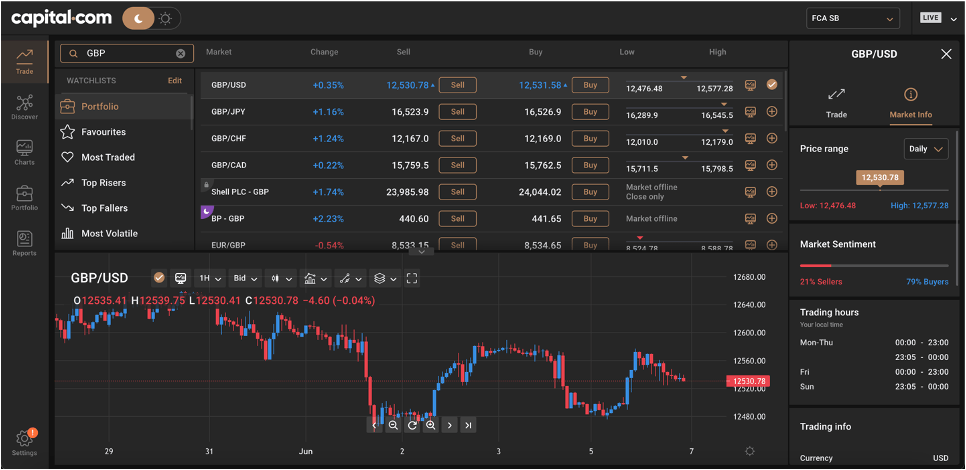 When you log into your capital.com account, select the option to trade on the top of the left-hand side menu.  Selecting this option will allow you to search for the specific asset you wish to trade. In this case, we located the GBP/USD currency pair.
Once you have selected the correct asset, you will be able to expand the chart and see all of your options available on the screen. As you can see, there is a buy and sell function on the top right-hand side of the screen. Selecting this will allow you to rotate between buy and sell orders. You will find your trade options on the far right-hand side of the screen. It is here that you will be able to enter the specific details of your trade including your stop-loss and take-profit orders.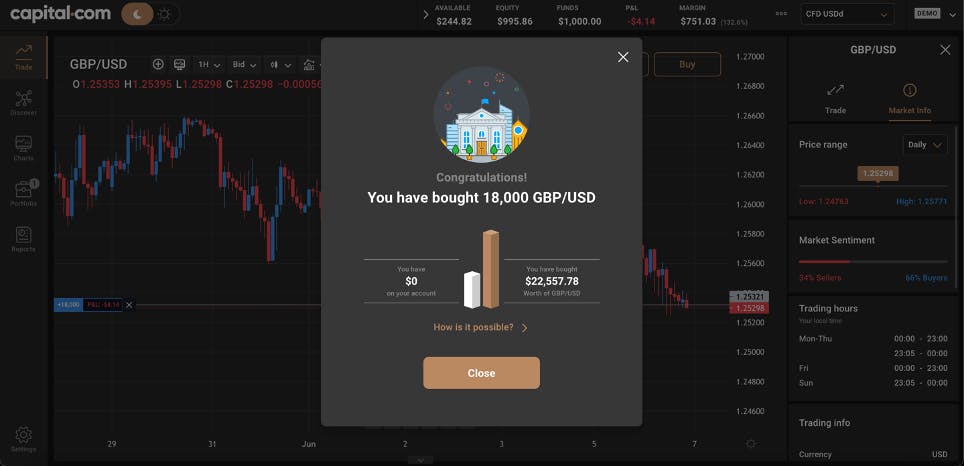 After you have entered your trade details, simply select "buy" or "sell" again to execute the trade. As you can see in the image above, we entered a trade for £18,000 GBP/USD. As you can see, entering your first trade through capital.com is effortless and the interface is wonderfully streamlined making it especially helpful to new traders who may not wish to navigate more sophisticated user interfaces!
Capital.Com Customer Support
The customer support team at capital.com is generally well-regarded. With customers from around the globe, capital.com provides customer support in 24 languages and is available 24/7 through the live chat function. Should you need any help or have any questions, the customer support team is always able to help.  
Conclusion
Overall, we believe that capital.com offers its users a first-class brokerage experience. We specifically feel, given the extensive educational tools available, that capital.com is an exceptional choice for new or inexperienced traders who are keen to develop and build upon their existing trading knowledge.
If you are ready to sign up for capital.com today, click on the "Learn More"! If you found this capital.com review to be useful and want to read more information on the best brokerages out there, check out our comparison page in the link below!