Vantage FX Review 2023: Pros, Cons and How to Start Trading
If you are interested in investing or trading in the financial markets, then the first tool you will need to add to your toolbox is a brokerage account. A brokerage account is your gateway into the financial system. They are online platforms that facilitate trades by connecting buyers and sellers for every transaction.
Selecting the appropriate brokerage account for you is one of the most important decisions you will make in your trading career. The brokerage account you select will have an impact on everything from the fees and commissions you are liable for to the assets you have access to trade. With interest in trading and investing skyrocketing since the 2020 crash, it is now more vital than ever before for you to sign up to a reliable brokerage when you begin your trading career. 
This Vantage FX review will examine the Vantage brokerage and highlight its strengths and weaknesses to give you the information you need to determine whether it is the right brokerage for you. Let's get started! 
What is Vantage FX?
Vantage is an Australian-based brokerage platform specialising in forex and CFD products. Founded in 2009, Vantage is regulated by ASIC (The Australian securities watchdog) and the Vanuatu Financial Services Commission. 
Although designed for an Australian user base, the Vantage brand and platform has grown to accommodate users from across the world and now boasts a truly global user base. Currently, it accepts users from most major nations including the United Kingdom, Norway, Sweden, France, and Germany. 
If you are in one of these countries and looking for a new brokerage to help you begin trading in the forex markets or provide access to CFD products, read on to find out more!
Pros
Insurance - Vantage holds indemnity insurance to offer you additional protection above and beyond what is required by regulation. 
TradingView - Vantage has seamlessly integrated the highly regarded TradingView platform into its brokerage. 
Safety - Vantage is one of the most respected and well-regulated brokerages in the world. Currently, they are regulated by two tier-1 jurisdictions. 
Cons
Cost - The spreads on Vantage's standard account leave a lot to be desired for traders who deposit under $10,000. If you deposit over $10,000 you become eligible for Vantage's active trader rebates which make the cost of using the platform much more competitive. 
Limited Selection - Vantage specializes in specific assets and products. This will make them unsuitable for investors who are looking to trade or invest in a wide range of assets. For example, if you are looking to purchase and hold index funds for the long term, Vantage is likely not the brokerage account for you. 
Pro ECN Account - This premium account requires traders to deposit a minimum of $20,000. Again, this high minimum deposit will likely exclude many new traders who are not prepared to invest this level of capital. 
Is Vantage FX Legit?
Safety should be your key focus when selecting the appropriate brokerage account. Thankfully, Vantage FX offers safety features beyond what is required by law. Not only do they segregate client funds and comply with ASIC mandated safety protocols and regulations, Vantage also incurs the additional cost of further indemnity insurance to protect its users in the event something goes wrong. 
Platform & Features
Let's take a look at some of the Vantage FX platform's six most coveted features.
Copy Trading - Through multiple third-party service providers, Vantage FX is able to offer its users the elusive copy trading feature. This feature allows users to copy the trades of more veteran traders to benefit from their wealth of experience. Copy trading is ideal for new traders who do not yet have the necessary knowledge or experience to trade competently in the markets but wish to begin gaining some exposure to them. Currently, Vantage's third-party service providers for this feature are: ZuluTrade, MyFXBook Autotrade, and DupliTrade. 
MetaTrader - Vantage FX has implemented the use of the MetaTrader platform directly through the Vantage platform. For those of you who are unaware, MetaTrader is a popular online trading platform that allows you to automate your trading through the use of its intuitive user interface. At the time of writing, Vantage offers MetaTrade 4 and 5. Both of these platforms are available on desktop and mobile. 
Research & Tools - Vantage has spared no expense on the wide range of research and analysis tools that it makes available to its users. Although these tools are reasonably comprehensive, it should be noted that many of them are only available to users who have deposited over $1000 on the platform. You can find a list of the tools available at Vantage FXbelow.
Charting Software;
Macroeconomic fundamental data;
Economic Calendar;
Trading Ideas;
Forex VPS;
Forex Sentiment Indicator;
AI Selected Newsfeed.
Education - Any successful trader will tell you that the key to profitable trading over the long-term is continued education and training. Vantage FX is well aware of how vital it is for traders to be well-educated before they begin actively trading. For this reason, Vantage FX offers its users a number of guides, tutorials, and educational videos. Beyond this, Vantage also offers its users access to a demo account so that they may hone their skills without putting any real capital at risk. 
Mobile Application - Like many other brokerages before it, Vantage FX has chosen to adopt the use of a mobile application so that its users can continue to monitor their positions and make trades on the go. By all accounts, the Vantage mobile app's bespoke and intuitive design make it both user-friendly and highly functional for those of you who need to make trades through your mobile device. 
Leverage -  Arguably the most asked about feature on any brokerage platform is the amount of leverage that is offered. On the Vantage platform, leverage ratios start at 100:1 rising as high as 500:1. It should be noted that the specific amount of leverage you will be offered will be dependent on a number of different considerations including; the asset you are trading, your level of trading experience, and the jurisdiction that you are trading from. For example, if you are trading from within the European Union, EU law would severely diminish the amount of leverage you would be given access to, regardless of your level of experience. We strongly recommend that you exercise caution when implementing the use of leverage in your trading. 
Fees & Commissions
As anyone who has read John Bogle's "The Little Book on Common Sense Investing" can attest, fees and commissions can have a massive impact on an investors overall return. In fact, trading fees can take such a toll on active traders that many will struggle to turn a profit. As such, it is important for us to examine Vantage's fees and commissions structure. Let's take a look at that now!
Trading Fees
The trading costs at Vantage depend on the type of account that you open with them. For the purposes of this Vantage review, we will focus on the standard account as this is likely to be the account that many of you will sign up with when creating a Vantage account. 
Although the standard account does not attract a commission, the spreads when using this account are significantly higher than in the other account options offered by Vantage. For example, on a standard account, the starting spread when trading forex is 1.4 pips. However, on the Raw and Pro accounts, the spread is 0 pips. As such, If you intend to trade more actively and deposit a larger amount of capital into your trading account you may be better served by opening a Raw or Pro account. 
Non-Trading Fees
Thankfully, Vantage FX does not apply any deposit, account, or inactivity fees on its users. Similarly, there are no withdrawal fees for credit/debit cards and one international bank withdrawal is included per month. Any subsequent international bank withdrawal within a given month will be charged at 20 of your given currency (i.e. $20 or £20). 
What can you trade on Vantage FX?
We noted in the pros and cons section above that one of Vantage's shortcomings was their lack of available assets. Although Vantage does not have the widest range of tradable assets, let's take a few moments to look at what you can trade through the Vantage FX platform. 
Forex - This includes all major currency pairs as well as several exotic parings. 
Indicies - All major indices are available on the Vantage platform. 
Commodities - Commodities will include soft commodities and precious metals like gold and silver. 
Share CFDs - A wide range of share CFDs are available to choose from. 
Cryptocurrency CFDs - Most major "blue chip" cryptocurrencies are available on the Vantage platform. 
Please note that CFDs are leverage-based instruments and do not provide ownership of the underlying assets. In other words, if you purchase a share CFD, you do not own the share but rather have exposure to the price action of that share. Therefore, if you are seeking a platform to buy and hold shares over a long time horizon, a CFD product is not ideal for you. 
How to open an Account?
Signing up with Vantage FX is a straightforward process that begins at www.vantagemarkets.com. Head over to their website and select the "Live Account" option at the top right-hand side of the screen to get started today!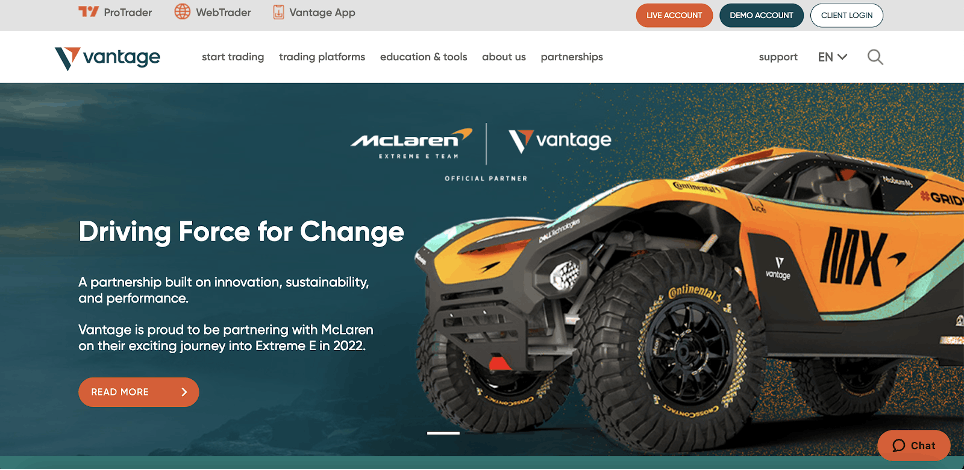 Vantage FX will require some basic information from you in order to process your account application. This will include basic identification documents such as a passport or ID card.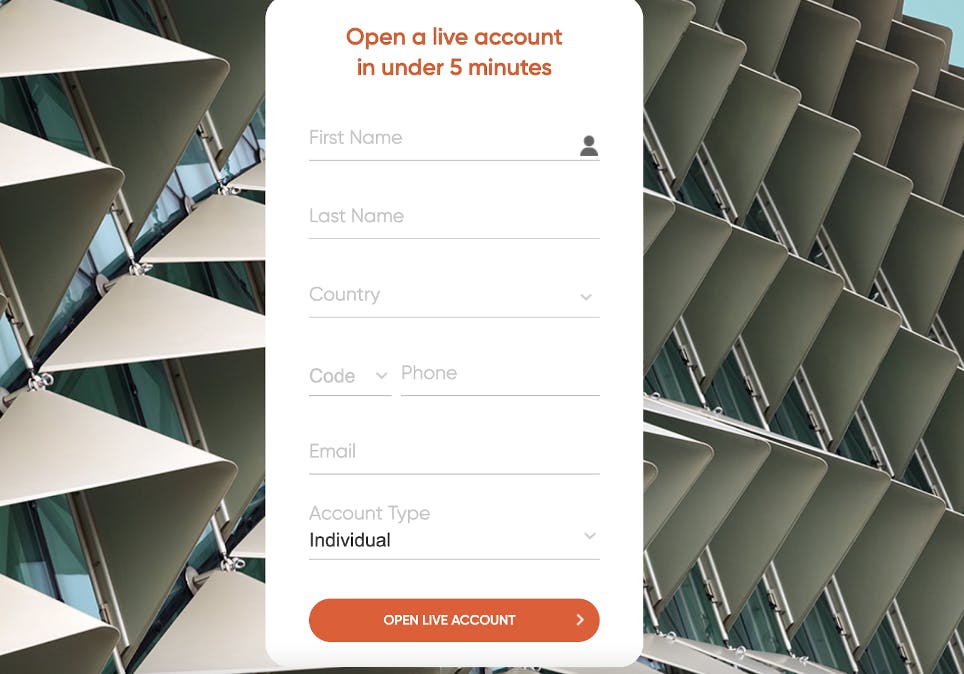 After you have provided Vantage FX with your personal information you will be asked a series of questions related to your employment status, income, and general financial wellbeing. These questions are required for compliance with anti-money laundering legislation requirements. You can see some of these questions in the image below.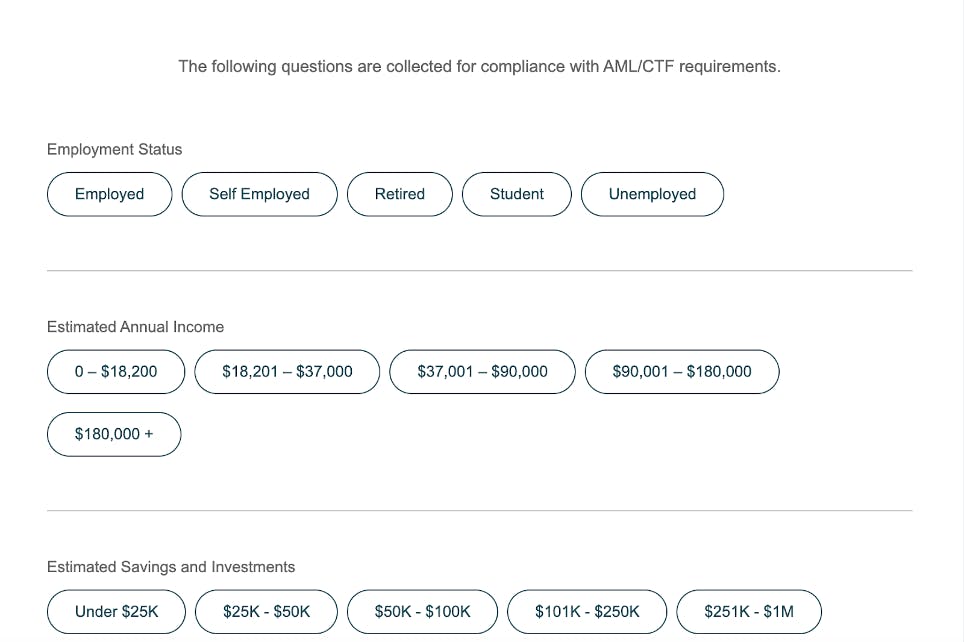 Once you have answered these basic financial questions, you are almost ready to go! All that is needed now is to specify the details of the account you wish to open with Vantage FX. You will also have to identify the trading platform you want to use, and the currency you will be funding your account with. Once you have made your choice, simply upload your proof of identify/residency documents are wait for confirmation of your account to begin trading!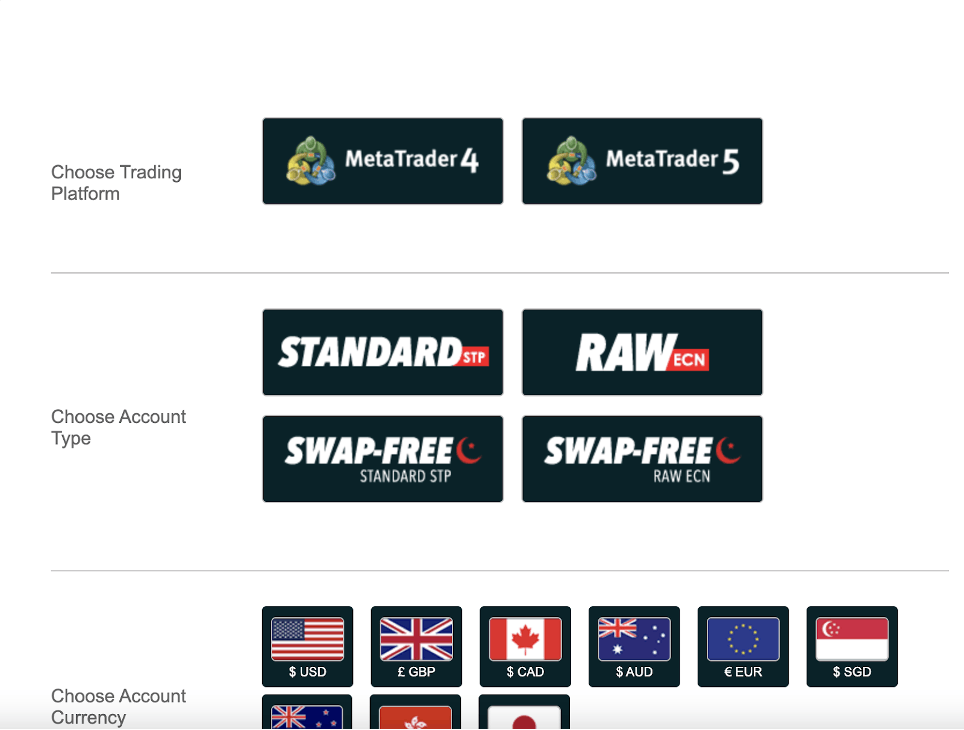 How to trade Forex on Vantage FX?
Now that you finally have your Vantage account, let's take a quick look at how to place your first trade through the Vantage platform. For the purposes of this example, we will be looking at how to place a forex trade through the MetaTrader 5 integration you can find on the Vantage platform.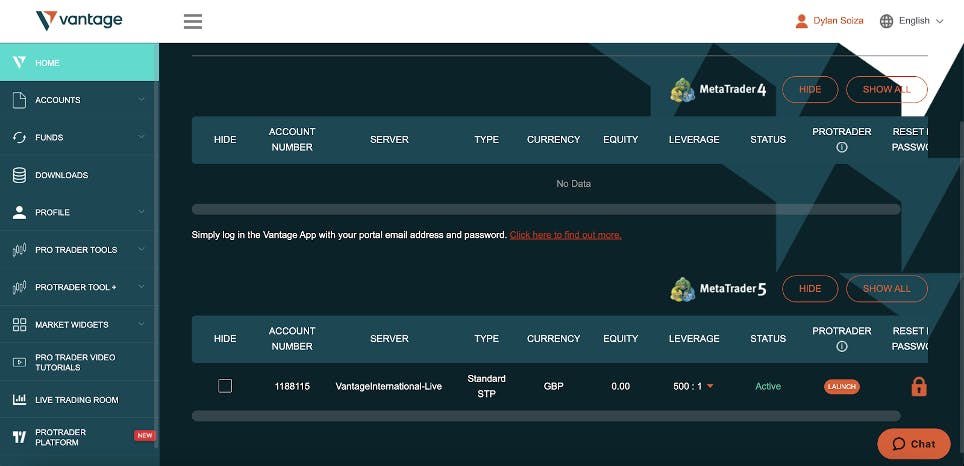 With an active Vantage account, your interface should look like the image above. You will be able to see all the menu options on the left-hand side of the screen and your MetaTrader5 details in the center of your screen. To access the MetaTrader5 interface, simply select the orange "launch" function at the end of your MetaTrader5 section. 
After you launch MetaTrader5 you will be prompted to enter your MetaTrader5 log-in details. Please note that these details will be supplied to you by Vantage once your account is activated. Vantage will send these details to you via email. Once you have logged in, your screen should look similar to the image below.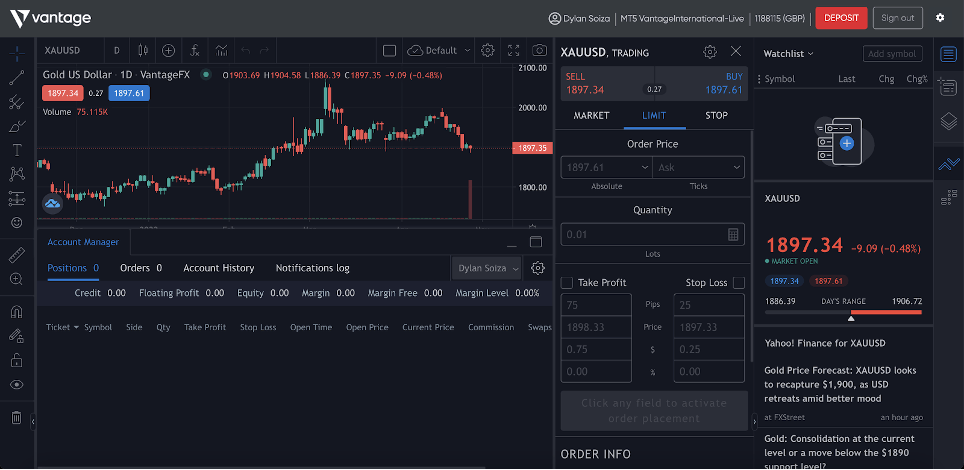 Although the image above may look complex to new or inexperienced traders, rest assured that the interface is actually very straightforward and you will soon be able to place trades effortlessly. 
To make your first trade, you first need to determine which asset you will trade. Since this example will demonstrate how to make a forex trade, we will use the EUR/USD currency pairing. To locate this pairing, simply search for the pairing in the search bar as shown in the image below.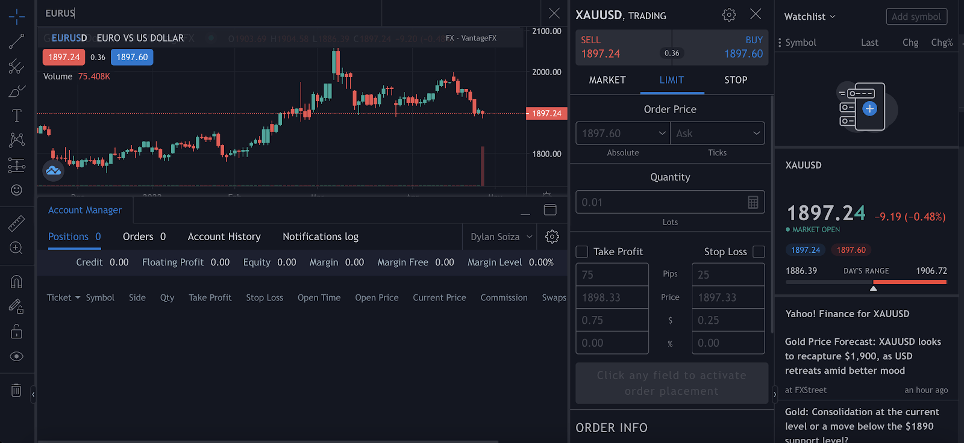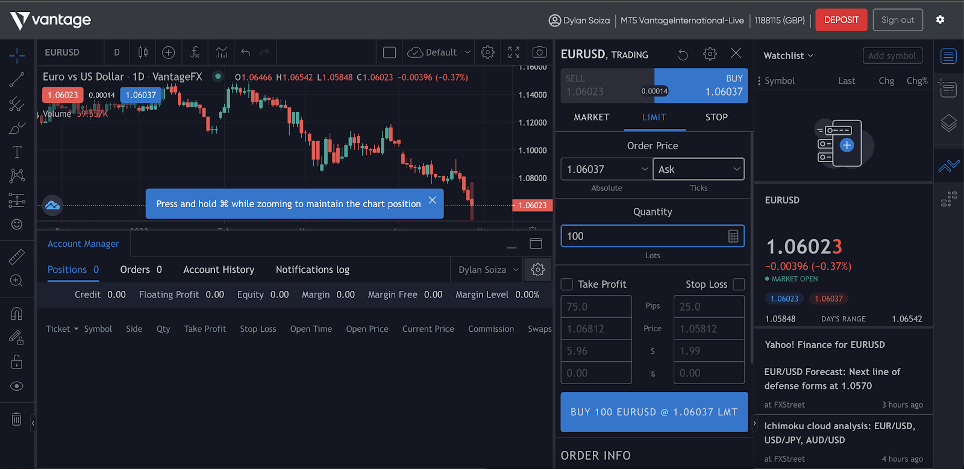 At this point, entering a trade is simply a matter of entering in the specific details of the trade you wish to make. Assume that you believe the price of this pairing will increase. In this case, you would enter a buy position. To do this, all you need to do is select the buy option of the trading window as demonstrated below. Once you have selected "buy" you will be prompted to enter the specific details of your trade. You will be able to decide between a limit order or a market order and the quantity that you wish to purchase. 
As you can see above, this trade window also affords you the opportunity to set your stop-loss order. You can find the option for this under the "buy" function. We strongly recommend that every trader implements a stop-loss order to prevent their losses from exceeding an amount they are comfortable with. 
Once you have entered all your details, all you need to do to enter the trade is select the second "buy" function at the bottom of the trade window. Selecting this function will enter your trade according to the details you have entered above. That's it! At that point, you will have successfully entered your first trade through the Vantage platform! Congratulations!
Vantage Customer Support
The quality of a brokerage's customer support is always a vital consideration when determining which brokerage is best for you. Ultimately, if you have a problem with your account or need help in understanding something you believe may have gone wrong, the last thing you want to is to spend countless hours trying to get through to a representative to help you. This reality remains true regardless of whether you're an experienced investor or a new trader looking to get started in the markets. 
Fortunately, Vantage offers its clients high level customer support through both online chat functions and phone support. Similarly, customers also have the option of contacting customer support via email. However, according to customer feedback the email option has yielded mixed results. As such, we would advise you to contact Vantage through either its online chat function or directly on the phone. It should be noted that support is not offered 24/7. 
Vantage Review Conclusion
Overall, we are happy to recommend Vantage FX to those of you who are looking for a new brokerage account! Although they do not have the widest selection of tradable assets, Vantage's intuitive design, comprehensive list of tools, and educational resources make them an excellent choice for both new and experienced investors! If you are ready to sign up to Vantage today, check out our link here! If you found this Vantage review useful and want more information on the best brokerages available, check out our comparison page!
Unsure if this broker is for you?