Pepperstone Review 2023: See If Pepperstone Is the Right Broker For You
If you are considering investing your savings, the first step in doing so will be to open up a brokerage account. Brokerage accounts allow investors to deposit their cash and use it to buy shares, cryptocurrencies, funds, and other assets that trade on the financial markets, or trade CFDs thereof.
Although it may seem straightforward, determining which brokerage account is right for you can be a difficult decision. Despite what many new investors may initially believe, not all brokerages are created equal. Brokerages differ from one another in a number of key characteristics including the assets available to purchase, the fees they charge, and the designs and features of their platform. 
As a result, this review will attempt to explain the pros and cons of the Pepperstone brokerage service by exploring its features, fees, and overall service. It is our hope that this Pepperstone review will provide you with enough information to determine whether Pepperstone is the right brokerage for you. Let's get started!
What is Pepperstone?
Founded in 2010, Pepperstone is an Australian brokerage service with offices in London that specializes in forex and CFD trading. Whilst Pepperstone initially operated exclusively in Australia and only offered a limited number of forex and CFD products to its customers, the services on offer have expanded over the years. 
At the time of writing, Pepperstone can offer a wide range of products and services to clients in Australia, LATAM, ASIA, Africa,UAE, UK and Europe. These products are no longer simply limited to several currency pairs and a handful of CFDs but have expanded to encompass CFDs in shares, indices, metals, and even over 18 cryptocurrencies! This relatively recent growth in the range of products on offer has made Pepperstone a strong contender for many investors looking to open up their first brokerage account. Here is a summary of what we consider to be Pepperstone's best and worst features. 
Pros
Number of Assets - There are many brokerages that specialize in specific asset classes and do not offer their clients the opportunity to trade other assets. While Pepperstone did initially operate in this manner, it has continued to expand its offering to accommodate its clients wide range of preferences in relation to the assets they wish to invest in. If you are the type of investor who prefers to have all of your investments within a single account, you must sign up for a brokerage that can provide all the assets you wish to trade or invest in. Thankfully, Pepperstone's growing list of tradable assets has significantly increased the likelihood that they will be able to satisfy your requirements in this regard.
Cost - If you are new to investing, you may not be aware of the detrimental impact that fees and commissions can have on your overall return throughout the years. Indeed, high fees and commissions are responsible for eating away at sizeable portions of an investors compounded returns over long periods of times. For this reason, Pepperstone's competitive fee and commission structure is a strong reason for signing up to its brokerage service. We will cover Pepperstone's fees and commissions in more depth throughout the fees and commissions section below. 
Cons
Website - According to a number of user reviews, the Pepperstone website's performance is less than desirable. Beyond the regularly website maintenance, the website is known to have incomplete or out-of-date information. In an age where a company's web presence is often crucial to the success of its business, Pepperstone's website is especially disappointing. 
Negative Balance Protection - Negative balance protection ensures that a clients account never falls below the deposited amount. Essentially, it is designed to protect clients from losing more money than they initially invested into their brokerage accounts. While Pepperstone does offer this protection to its UK/EU clients, it does not offer it to all its clients across the board. This means that if you are opening a Pepperstone account from outside the UK/EU, you will not be afforded the same level of protection and may end up losing more than you initially invested. 
Availability - No brokerage can serve every client across the globe. Unfortunately, even some of the biggest brokerage platforms operating today have restrictions on the jurisdictions within which they can offer their services. However, Pepperstone is not available in a number of major jurisdictions including the United States. This is due to regulatory constraints associated with the U.S regulator. If you are a United States citizen, then we regret to inform you that you will need to look elsewhere for a brokerage account. 
Is Pepperstone Safe?
Safety is paramount in determining which brokerage account you ultimately choose to open. In order to access the safety of a brokerage, we often look at a number of key metrics.  
The most crucial of these metrics is the regulators that regulate their activities. As we noted above, Pepperstone is not able to operate in the United States due to regulatory constraints. Given the strength and reputation of the US regulator, it is disappointing that Pepperstone is not held to account by US standards. 
 However, we are pleased to note that Pepperstone is regulated by a number of tier 1 regulators including the United Kingdom's Financial Conduct Authority (FCA) and Australia's Securities & Investments Commission (ASIC). 
Given the robust nature of the regulatory frameworks imposed by both these leading jurisdictions, we are confident that Pepperstone is a safe brokerage.
Pepperstone Review: Platform & Features
Education
We always encourage new or inexperienced investors to take the time to learn about the financial markets and the assets they are purchasing. This education is made easier by the educational materials that Pepperstone provides its clients through its platform. Pepperstone is well-aware of the need for investors to arm themselves with as much education as possible before the delve into the world of investing as such, it provides its clients with a number of educational materials to ensure they are as prepared as they can be before making their first transaction. These educational materials are not limited to simply blogs/articles but also include free webinars and access to a library of educational videos. 
Leverage
In trading, leverage refers to an investors ability to maximise his position by borrowing money from their brokerage. For example, if you have $100, leverage will allow you to control a position of more than $100 by borrowing the difference from your brokerage. Engaging the use of leverage will allow an investor to maximize their returns (or losses). As you can imagine, as far as a brokerage's features are concerned, none is more enquired about than the amount of leverage available. Naturally, such a powerful feature is governed differently in each jurisdiction. This means that the amount of leverage that Pepperstone is able to offer you will differ depending on where you set up your account. At the time of writing, Pepperstone generally offers 30:1 on forex trades and 20:1 on stock index CFDs. For more specific information on how much leverage you can secure on any specific asset we encourage you to look directly on the Pepperstone website for the most up-to-date figures. 
Social Trading
Social trading refers to a brokerage feature that allows users to communicate with each other through the Pepperstone platform. This feature, and accompanying features, have become especially popular since the rise of social media. The feature allows users to share ideas, discuss potential investments, and inform their decision making with the help of other users. One of the advantages of social trading on Pepperstone is the copy trading function it affords its users. Copy trading allows users to copy the trades of other users they believe to be more experienced of efficient. This is an especially popular tool among new or inexperienced traders who with to begin exposing their capital to trading in the markets but have not yet acquired a sufficient amount of knowledge to begin trading for themselves. We must warm readers that copy trading does incur significant risk. By engaging this tool, your account will  automatically copy the trades of another individual. Although this will allow you to profit from any successful trades this third-party makes, it will also expose your account to any risks they assume and any losses they incur. 
Market Research
Pepperstone offer its users access to research-based analysis on various assets available on its platform. This research is conducted by experienced analysts and is available to all users. As you might imagine, this feature is especially useful as it can save users considerable amounts of time in research. While we definitely still recommend that you continue to do your own independent research, brokerage provided market research never goes unappreciated. Apart from the research Pepperstone provides, there are also a number of research tools available to users through the platform that can aid you as you conduct your own research. 
Open a Pepperstone Account Today
Pepperstone Fees & Commissions
Pepperstone's fees and commissions have remained competitive since they were founded in 2010. The specific fees that are payable will depend on the type of account that each user decides to open. We will now provide a breakdown of the fees most users can expect to pay when using Pepperstone. 
Minimums
The minimum amount each user is required to deposit to create an account is 200 units of their base currency. For example, if you are in the European Union, this will be €200. Once your account is created the minimum deposit going forward will continue to be 200 units of your base currency. Naturally, this means it will be comparatively cheaper for Australian users to open an account when compared to their British peers. 
Standard Fees
At the time of writing, Pepperstone does not charge its users any inactivity, withdrawal, or deposit fees. However, there may be a conversion fee if users are withdrawing into currencies that are not the same as the base currency of the account. This fee will be dependent on the exchange between the currency pair at the moment of the transfer. 
Commissions
Pepperstone charges its users a commission for the use of its CFD instruments. This commission is built into the spread and can range from 0.4 - 1.6 points depending on the instrument selected. 
Opinion
Overall, we believe that Pepperstone's fee and commission structure allows them to remain competitive in an evermore-crowded market. If you are looking for more specific information concerning the fees charged for a specific product, we encourage you to look at Pepperstone's website directly.
What Can You Trade On Pepperstone
There is an ever-growing range of assets available to trade with Pepperstone. Let's take a look at exactly what is on offer.
CFDs - CFDs are leverage-based financial instruments that allow users to control greater positions with smaller amounts of capital. With Pepperstone, you will be able to trade CFDs on several different asset classes. This includes stocks, ETFs, indices, commodities, and cryptocurrencies. With CFD trading available in such a wide range of assets, we are confident that Pepperstone is well-suited to cater to investors looking to capitalize on opportunities in global markets using CFD products.
Forex - Forex allows traders to profit from the price fluctuations of currencies in the capital markets. With over 60 currency pairs available to trade, including all major currency pairs, you will likely be able to find the currency pair you wish to trade on Pepperstone.
How to Open an Account with Pepperstone
As you might imagine, the first step to setting up your Pepperstone account is to head over to the Pepperstone website and select "Join now".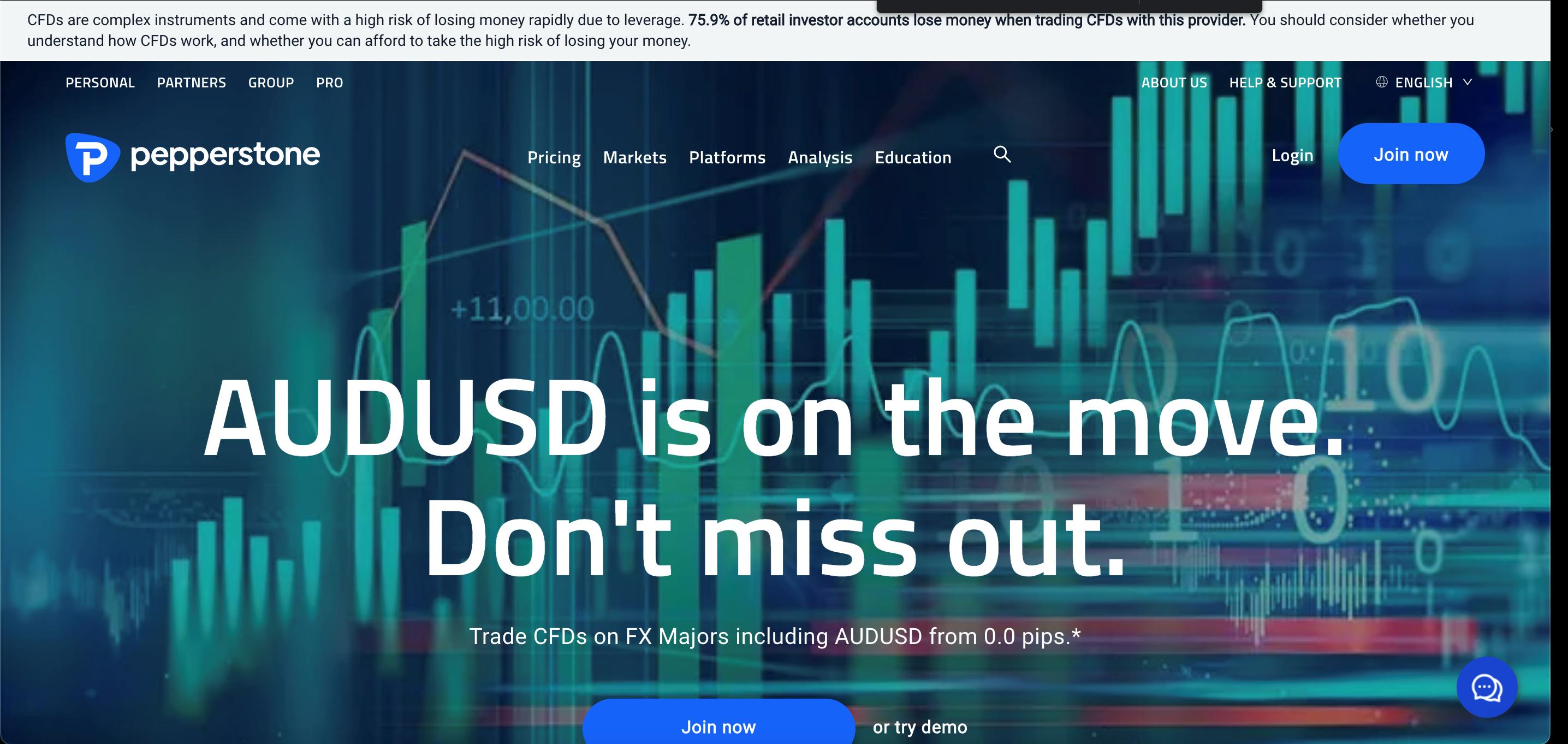 As you might expect, Pepperstone will require you to enter some basic personal information. The details requested are standard in any brokerage account opening process.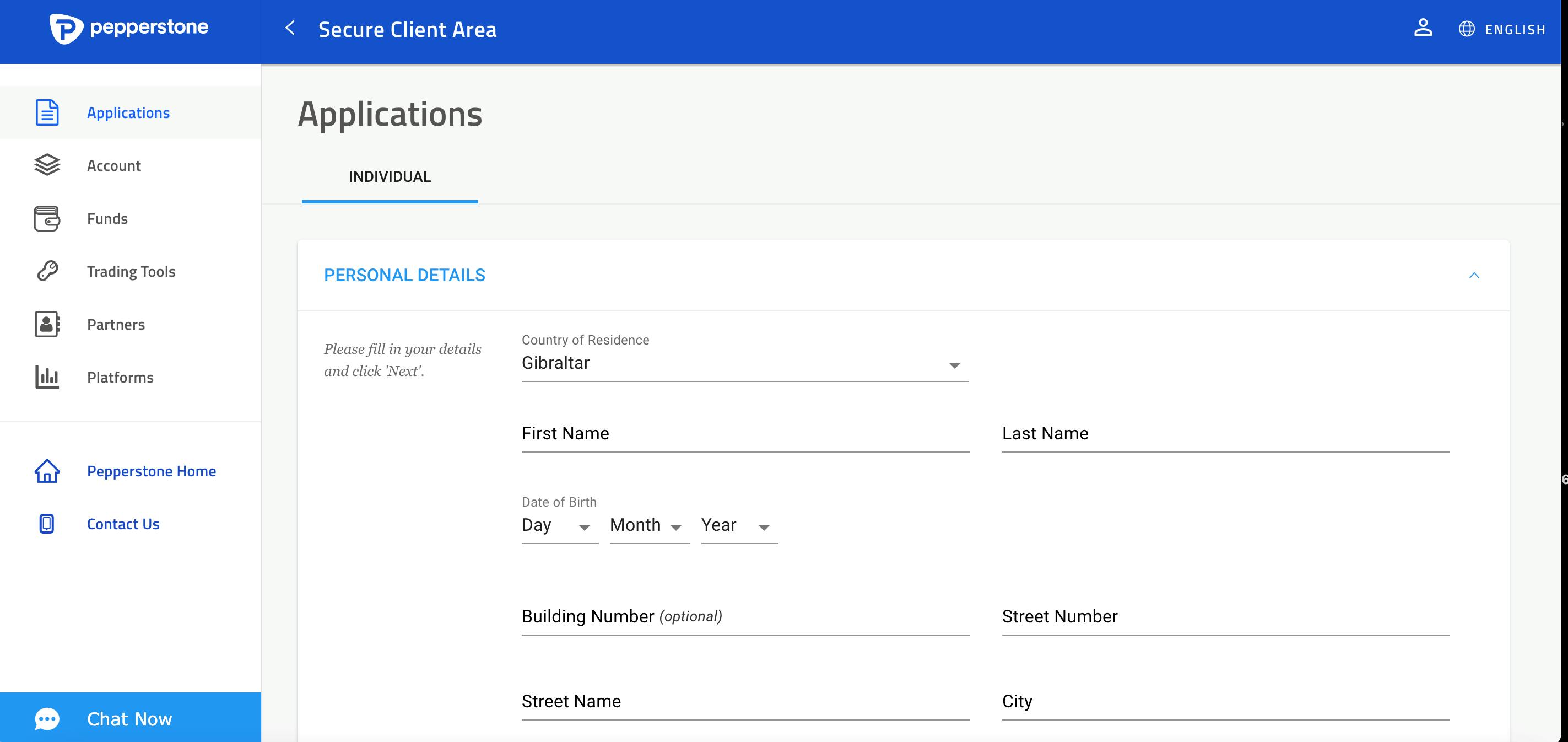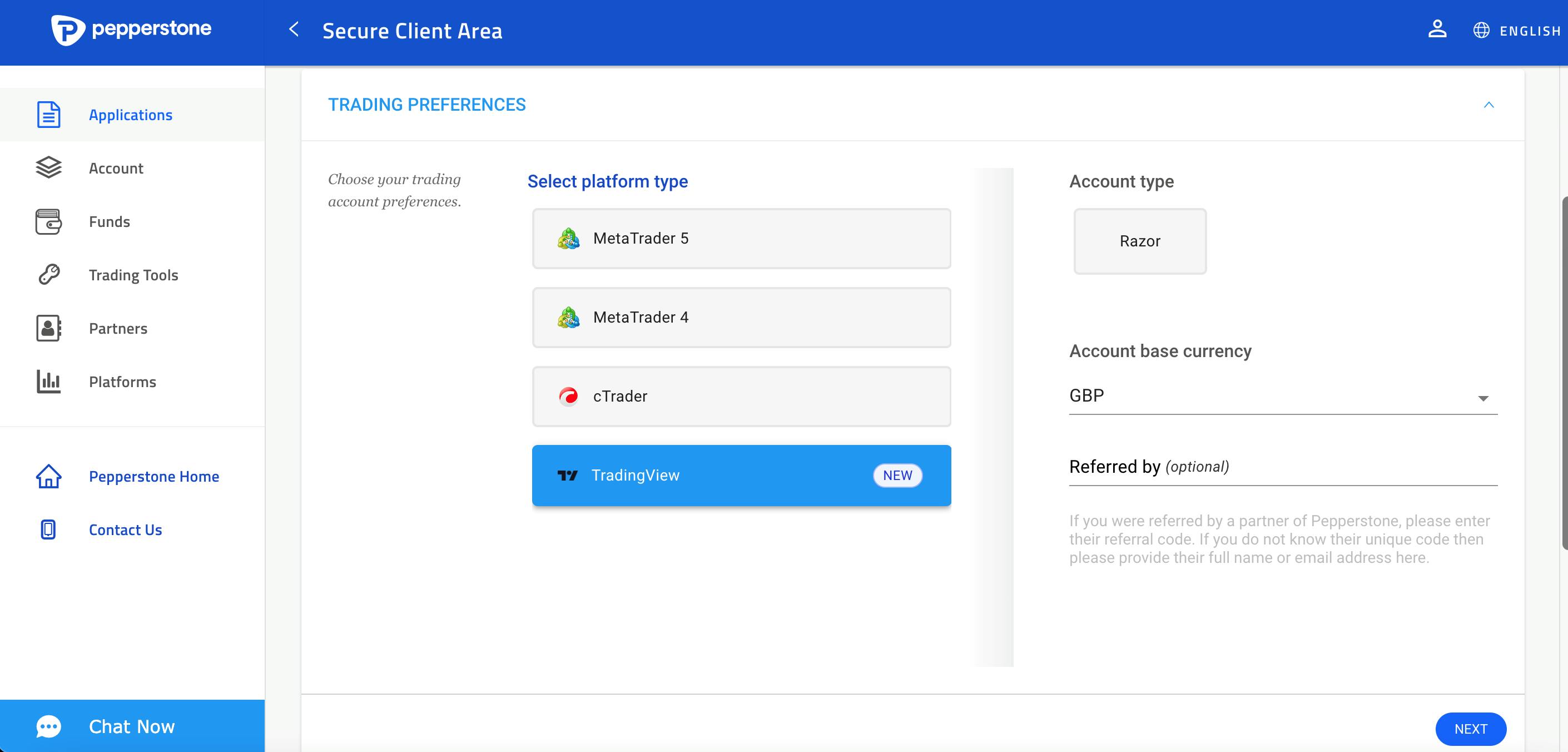 As you can see in the image above, you will be required to select a platform to use for your trading. You are given a number of options which include the popular MetaTrader platforms as well as TradingView. For the purposes of this example, we have selected the TradingView option.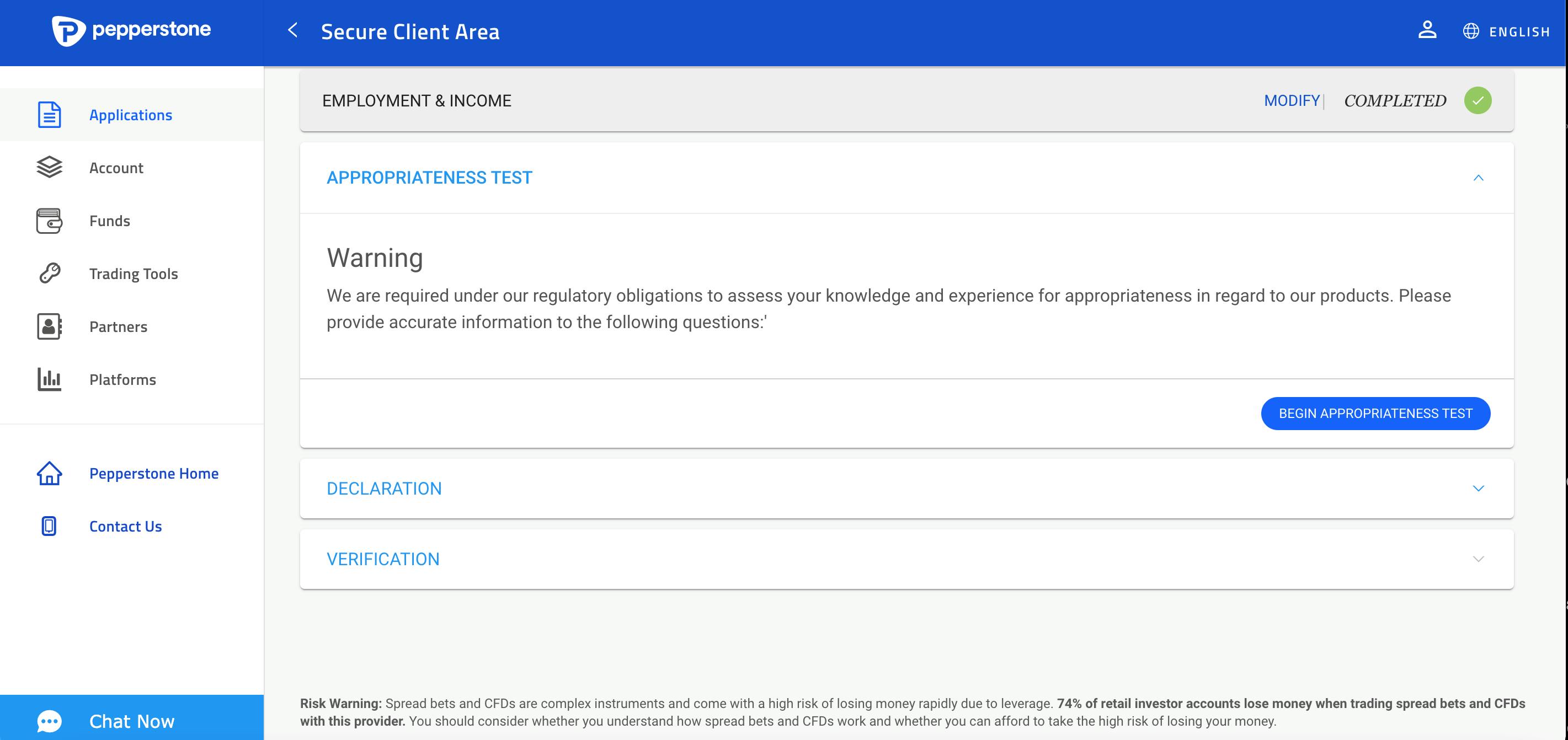 Towards the end of the application process, you will be asked to complete an appropriateness test. This test is designed to gauge your level of experience in trading with various instruments. It is important to answer these questions as accurately as possible without paining a false narrative of your trading experience. The questions are straightforward and mostly revolve around your specific trading experience and history.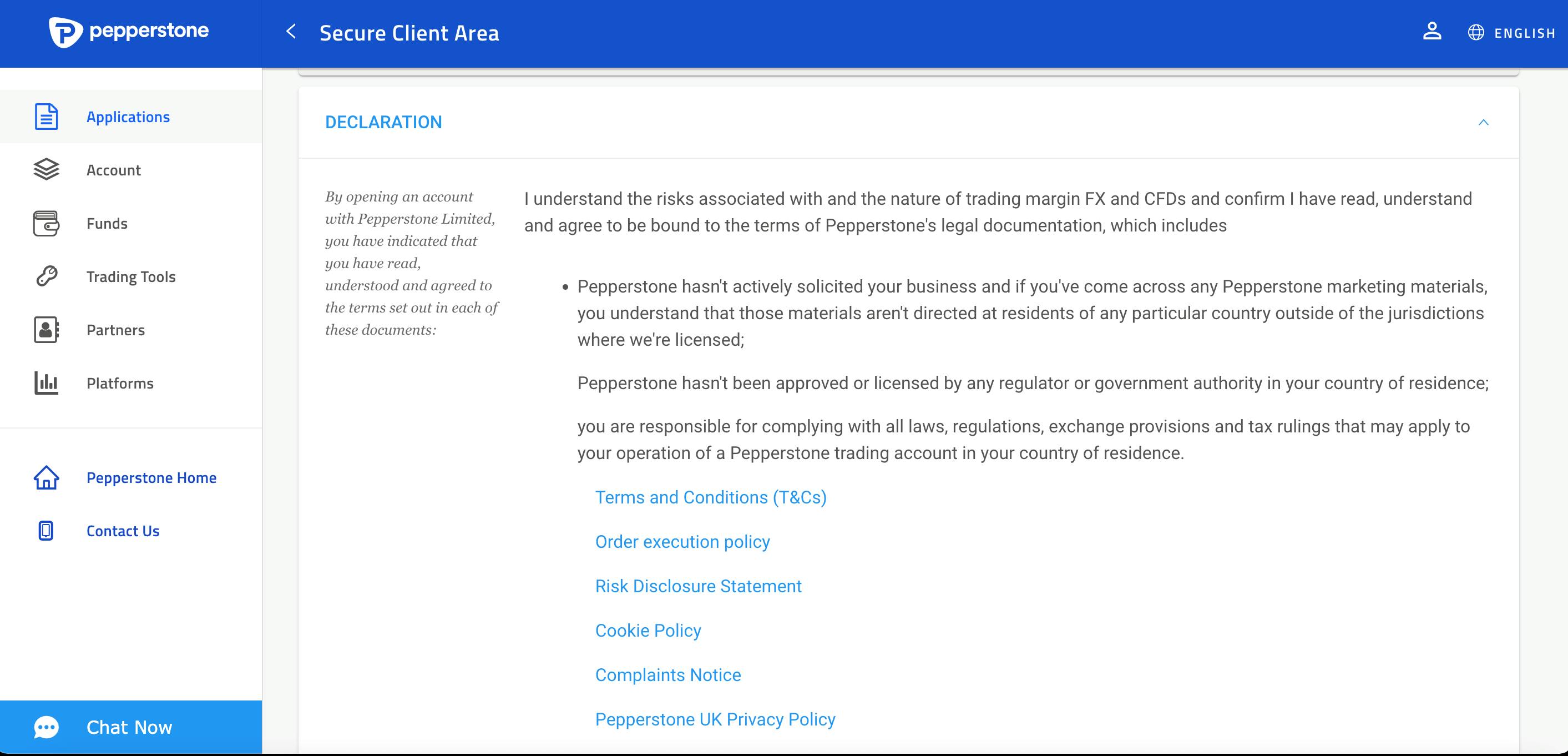 Once you have completed the above, you simply need to agree to the Pepperstone policy which states that you have read and understand the documents listed in the image above. After this, you are almost ready to go! Once the declaration is signed, simply upload your KYC documents and your account should be ready to go within 24-hours. Pepperstone will request two forms of ID as well as two documents with proof of address. These documents can either be a passport copy, I.D card, driving licence, bank statement, or a utility bill.
How to Trade Forex CFDs on Pepperstone
Now that you have your Pepperstone account live and ready to go, you are probably curious about how you can place your first trade. As you saw above, new users are required to select a platform to trade with when signing up for your account. For the purposes of this Pepperstone review, we selected TradingView. In order to trade with TradingView, you will need to connect your Pepperstone account to the platform. We will show you how to do this in the images below.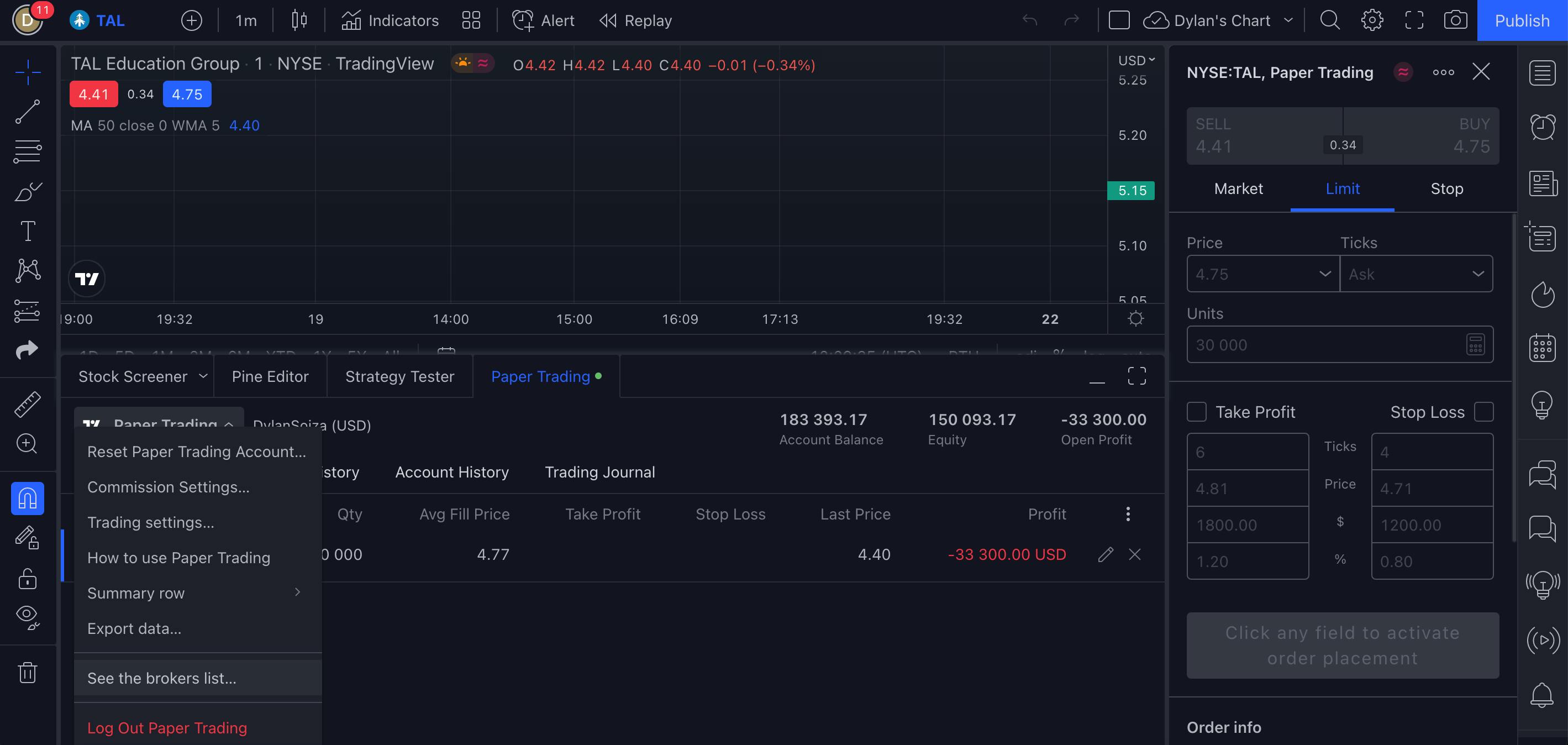 Firstly, head to Tradingview and select "chart". Once there, select the option for "paper trading" and then select the brokers list as you can see above.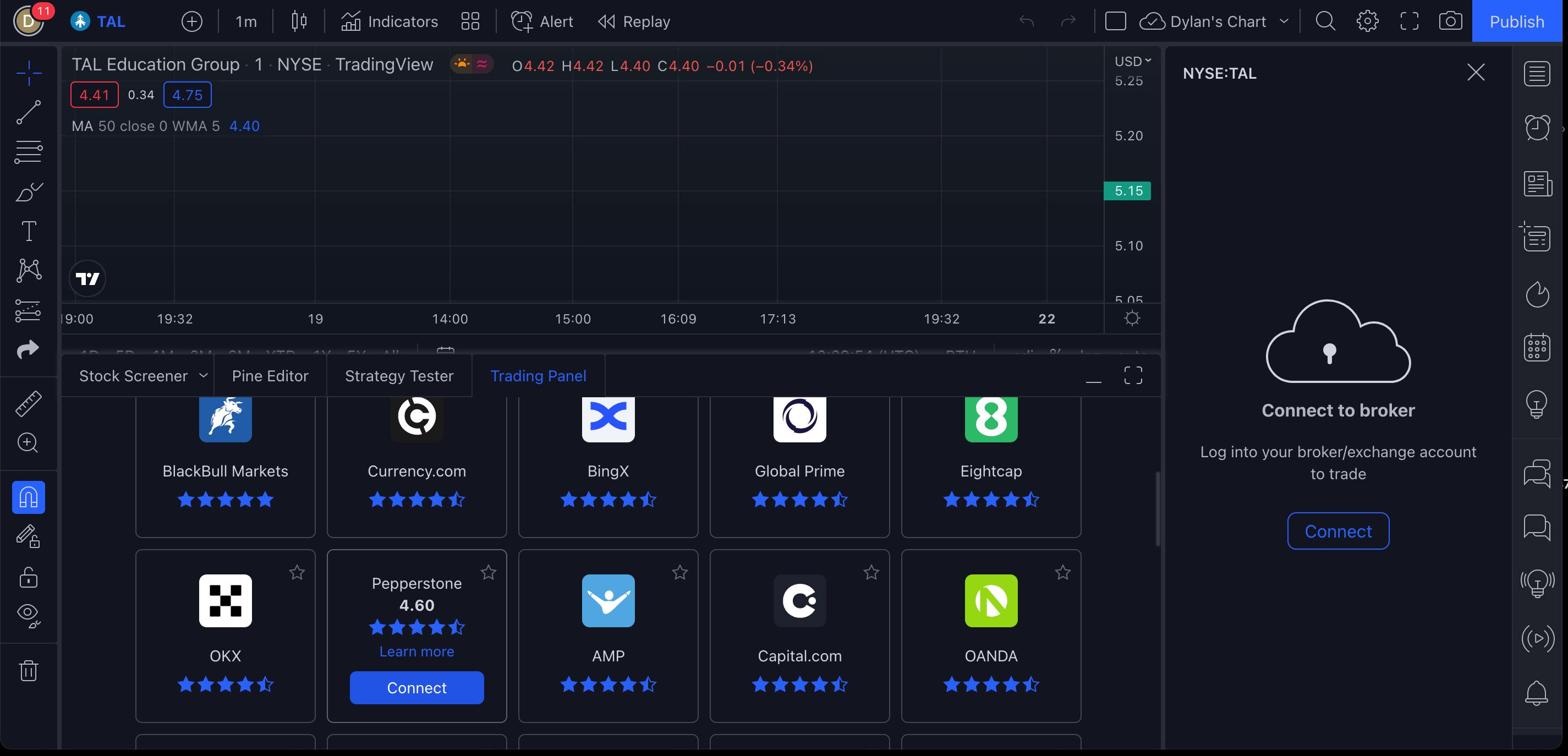 The brokers list will have a large number of brokerages available to connect due to the popularity of the TradingView platform. Simply locate the Pepperstone brokerage option and begin the connection process through the TradingView platform. Once your brokerage is connected to TradingView, you should be able to trade at will.
Remember that there are 2 Pepperstone account types that you can choose from.
Pepperstone Customer Support
Pepperstone's customer support is as helpful as one could reasonably expect from a brokerage. It provides 24-hour support 24 hours per day 5 days per week. Customer support over the weekend is less extensive due to the decreased level of demand during these days. However, weekend customer support remains comprehensive and is offered to users 18 hours per day. Help is never far away for Pepperstone's clients!
Risk Warning
CFDs are complex instruments and come with a high risk of losing money rapidly due to leverage. Between 74-89 % of retail investor accounts lose money when trading CFDs. You should consider whether you understand how CFDs work and whether you can afford to take the high risk of losing your money.
Pepperstone Review Conclusion
While no brokerage service is perfect, we believe that Pepperstone can offer its users a first-class brokerage experience. We specifically feel, given the extensive educational tools available, that Pepperstone is an exceptional choice for new or inexperienced traders who are keen to develop and build upon their existing trading knowledge.
However, given the fact that Pepperstone only offers forex and CFD products, we are unable to recommend them to every reader. If you consider yourself to be more of an investor than a trader and merely wish to buy and hold stocks over the long term without the use of CFD products, then we do not recommend signing up with Pepperstone. Instead, we recommend identifying a brokerage service that allows you to purchase shares outright and does not charge inactivity fees. 
If you are ready to sign up for Pepperstone today, check out our link here! If you found this Pepperstone review to be useful but do not feel it is the right brokerage for you, we welcome you to read more information about the best brokerages out there for you on our comparison page in the link below!