Nextmarkets review 2022
Investing in the financial markets erupted in popularity throughout March 2020 as hordes of new investors flooded the financial markets during the lows of the pandemic.  If you are interested in starting to invest, this Nextmarkets review may be for you.
In order to begin investing, every investor needs two things; capital and a brokerage account. Brokerage accounts are our gateway into the world of investments. They provide you with access to various tools and instruments that allow investors like you to grow your wealth by investing in various asset classes that will hopefully increase in value over time. 
Throughout this review, we will examine the strengths and weaknesses of the Nextmarkets investment platform as well as explore its features, fees, and how to navigate the basic functionalities of the platform. Let's get started!
What is Nextmarkets?
Founded in 2014, Nextmarkets is an online brokerage service offering a wide range of tradable assets with a heavy presence in the European markets. With offices in Germany, Portugal, and Matla, Nextmarkets offers its users commission-free trading with the goal of making investing in the financial markets accessible to everyone. 
In service of this goal, Nextmarkets couples the traditional do-it-yourself investment tools with its own investing experts who generate investment ideas every month completely free of charge. That said, in order to access these features you will need to upgrade to a Nextmarkets Pro account. Please note that this upgrade is free of charge and only necessary to ensure that you are aware of the risks involved. If you're based in Europe and looking for a new brokerage, Nextmarkets may be for the one for you! 
Pros
Investment Ideas - As we noted in the introduction, Nextmarkets provides its users with 300 monthly investment ideas from its investment experts known as "coaches". These investment ideas are provided to users completely free and updated monthly. Naturally, this is a massive benefit for new users who may not know what they should begin investing in or need some tips to get started.
Cost -  As many experienced investors will already be aware, the fees and commissions charged by your brokerage can have a massive impact on your overall return over time. As such, it is vital that you find a brokerage that is competitive with its fee and commissions structure. Thankfully, Nextmarkets is one of these brokerage. We will cover its fees and commissions in more depth below. 
Comprehensive Offerings - Unlike many brokerages, Nextmarkets does not specialise in any given asset class. This means that it is able to offer you a comprehensive range of assets to trade or invest. If you are the kind of investor who enjoys having all of their holdings within a single account, it will be important for you to find a brokerage that offers all the assets you wish to invest in. We are pleased to say that Nextmarkets are more than competent in this regard. 
Safety - The primary concern of every investor when selecting a brokerage account is whether or not their money is safe. Thankfully, as we will discuss in the section below, Nextmarkets meets all the required standards to ensure the safety and security of its users. This means that you can rest assured that if Nextmarkets were to find itself in trouble, your capital is totally safe!
Cons
Limited Educational Tools - Regrettably, Nextmarkets does not offer the level of educational training and resources that we typically like to see in the brokerages we recommend. A well-rounded education in investments is the hallmark of every successful investor. Due to its lack of resources, if you are an inexperienced user on the Nextmarkets platform, you will have to look elsewhere for answers to questions you may have. 
Website Platform - According to several reports, the desktop platform has been known to experience bugs/glitches on occasion. Although this is not a regular occurrence, we have no choice but to mention it.
Lack of Fundamental Data -  While Nextmarkets is able to offer reasonable amounts of technical data, there is simply a lack of fundamental data on the platform. Unfortunately, this will again mean that you will need to source this information from third party sites. 
Is Nextmarkets safe?
As we mentioned above, safety is a key consideration when determining which brokerage account you want to invest with. When selecting your brokerage service, you should ensure that your brokerage is regulated by well-regarded regulated in stable and established jurisdictions. Unfortunately, we are disappointed to report that Nextmarkets is only regulated in by the MFSA in Malta. This lack of Tier 1 regulation is especially disappointing.
However, our confidence in the platform's safety has been maintained by the investment made into Nextmarkets by a prominent entrepreneur. Peter Thiel, the co-founder of PayPal, took a $3.5 million stake in the project and detailed his support. With such a significant investor onboard, it is difficult to not have confidence in the Nextmarkets platform. That said, we certainly would like to see more licenses being issued by top-tier regulators like ASIC and the FCA in the future. 
Platform & Features
Structured Products - A feature typically found in Robo-advisory apps, Nextmarkets has adopted a variety of structured products for new or inexperienced investors to invest in. These structured products are essentially baskets of assets added together into ready-made portfolios that investors can purchase much in the same way as a fund or ETF.  For example, at the time of writing, Nextmarkets offers a "Warren Buffet" structured product that will allow you to invest in the stocks that Warren Buffet is currently invested in, thereby mimicking his performance. What better way to invest than by copying one of the world's greatest investors, right?
Leverage - A key question asked by investors who are considering opening a new brokerage account is how much leverage do they offer? Currently, Nextmarkets offers its standard users up to 1:30 leverage. Those of you who are eligible for the Nextmarkets professional account may also be eligible for increased levels of leverage (up to 1:100).  However, the specific amount of leverage you will be offered will be dependent on a number of different factors including; the asset you are trading, your level of trading experience, and the jurisdiction that you are trading from. Since Nextmarkets is based in the European Union, European Union law severely diminishes the amount of leverage you are given access to, regardless of your level of experience. It should also be noted that Nextmarkets offers its users access to leverage-based instruments known as CFDs. We strongly recommend that you exercise caution when implementing the use of leverage in your trading.
Account Types - As you may have already guessed, Nextmarkets is a beginner-orientated type of brokerage. As such, Nextmarkets generally only offers one standard account for its users intended to be a "one size fits all". However, Nextmarkets also offers an exclusive professional account to those of you who are able to meet the requirements of this account. Although the professional accounts exist, we must warn you that these accounts are not easily accessible and you must be able to prove that you are an eligible professional client. Due diligence checks will be carried out to ensure that you are in fact an eligible professional. As such, the professional account will be inaccessible to most readers. 
Curated Trading - If you have never used the Nextmarkets platform before, you may well be wondering what on Earth is curated trading? The curated trading feature is a creative twist on the typical copy trading features offered by many other brokerages. As opposed to these typical copy trading features where you simply click a button and disconnect from the platform, the curated trading feature adopts a much more hands-on approach. With curated trading, you will receive alerts and notifications from professional coaches who recently analyzed a specific asset and might be about to execute a trade. This feature essentially allows you to follow various coaches to receive their analysis. Every time you agree with their analysis, you are able to mimic their trades!
Mobile Application -  Much like most other brokerages, Nextmarkets has created its own bespoke mobile application for you to trade anywhere, at any time! As a beginner-focused brokerage, the application's design is intuitive and adopts a simplistic approach. According to customer reviews, the application offers seamless access to user portfolios and allows for smooth transactions when buying or selling your assets. 
Fees & Commissions
It is increasingly common for new investors to overlook the fact that fees and commissions can have a significantly detrimental impact on your overall return. Simply put, fees and commissions can take such a toll on your overall return that many of you could lose years of returns over your investing lifetime if you were to open a brokerage account with high fees and commissions. As such, it is vital for us to examine Nextmarkets' fee and commission structure. To do this, we will take a number of specific assets from various classes and list them in a table with the spread. This should give you an indication of the various trading fees that Nextmarkets will charge. Let's take a look at that now!
Asset
Spread EUR/USD  From 0.6 pips S&P 500 From 50 pips Gold From 40 pips TSLA From $2 XLK From $0.1-0.3 BTC From $125
It should be noted that the spreads listed above are dynamic and therefore subject to change. The table above is only intended to be used as a guideline. Further, although Nextmarkets offers commission-free trading, this only applies to orders of 250 Euros and above. Any orders below this threshold will attract a 1 Euro commission fee. Nextmarkets does not charge any withdrawal or inactivity fee and does not have a minimum deposit. 
Opinion
Overall, we believe that Nextmarkets is generally in line with industry averages on its fees and commissions. Most brokerages will no longer charge withdrawal or inactivity fees and their spreads and commissions appear to be reasonable. Similarly, the lack of a minimum deposit removes a barrier for new investors who may not have significant capital to invest. Low minimum deposits allow investors with small amounts of capital to regularly transfer money into their brokerage accounts. Since Nextmarkets is intending to cater to young or inexperienced investors, it makes sense that they would not adopt a minimum deposit policy. 
What Can You Trade on Nextmarkets
Nextmarkets enjoy a wide range of tradable assets. Let's take a look at exactly what is on offer with Nextmarkets. 
Shares - The shares of over 7000 corporations from multiple markets are available with Nextmarkets. With this much variety, it is likely that you will find what you're looking for. 
Exchange-Traded Funds (ETFs) - An investor favourite, there is a wide range of ETFs available to trade or invest in. 
CFDs - For those of you who love to make use of leverage to grow your wealth, CFD products are available for shares and ETFs.
Indices - All major indices are represented on the Nextmarkets platform. For those of you who want to set it and forget it, Nextmarkets has the indices you're looking for. 
Forex - Having exploded in popularity in recent years, Nextmarkets has all major and minor currency pairs available to trade on its platform. 
Bonds - A number of different bond options exist for those of you who want to hedge against risk. 
Cryptocurrencies - All major cryptocurrencies are available through Nextmarkets. Although you may not find some more exotic altcoins on the platform, Nextmarkets offers a reasonably wide selection of cryptocurrencies for those of you who like to live dangerously. 
How To Open An Account
As you might imagine, the first step to setting up an account with Nextmarkets is to head over to and select "open account now". The account opening process is efficiently streamlined to ensure that the entire process should not take longer than 20 minutes if you have the relevant documentation to hand.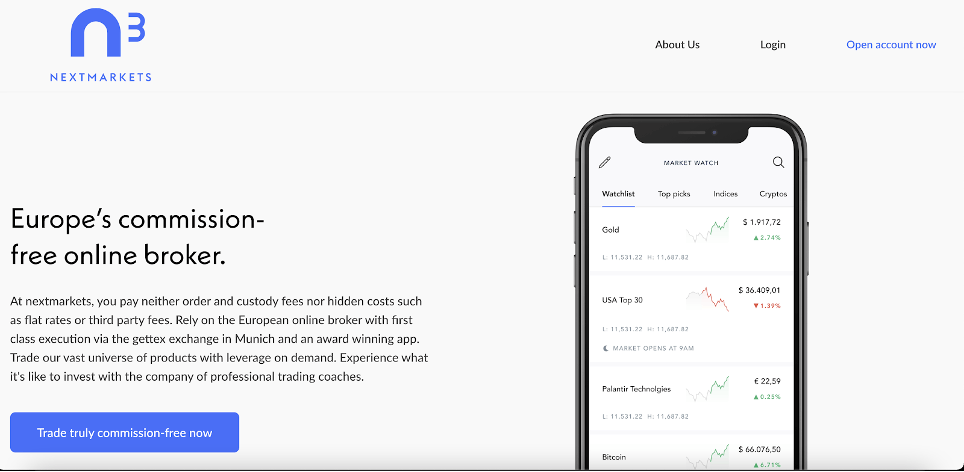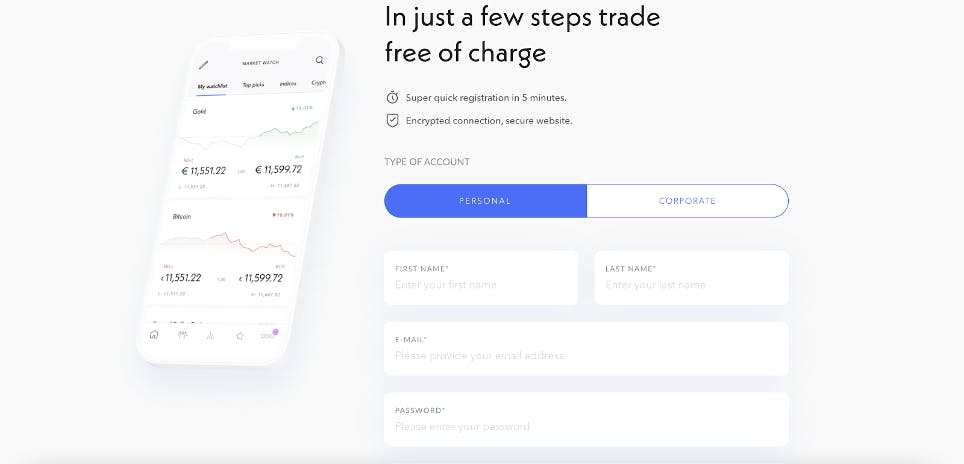 As we noted earlier on, Nextmarkets has two account options although most readers will be opening a standard personal account. The corporate account pictured above is reserved for eligible professionals.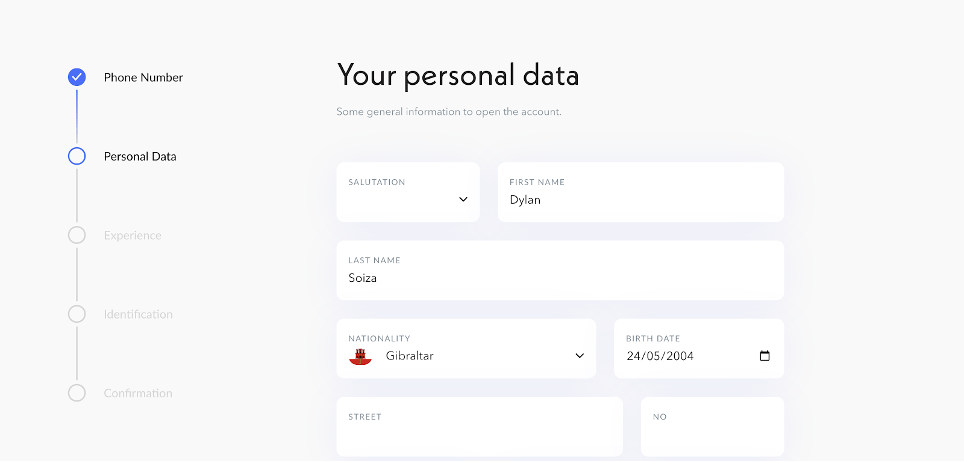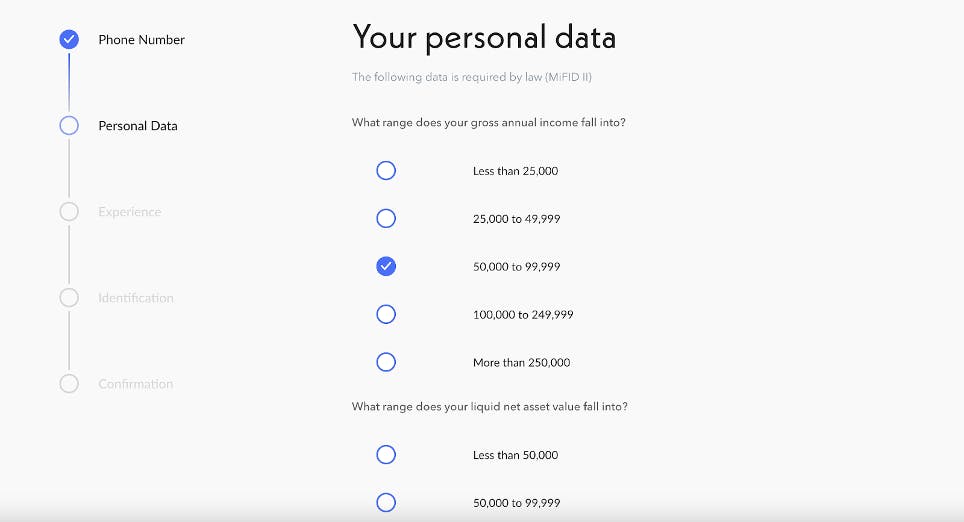 As is always the case when setting up a new brokerage account, you will be required to supply Nextmarkets with some personal information regarding your finances, financial experience, and personal details. 
This information is required to ensure that Nextmarkets remains in compliance with all the governing rules and regulations currently in force in Malta.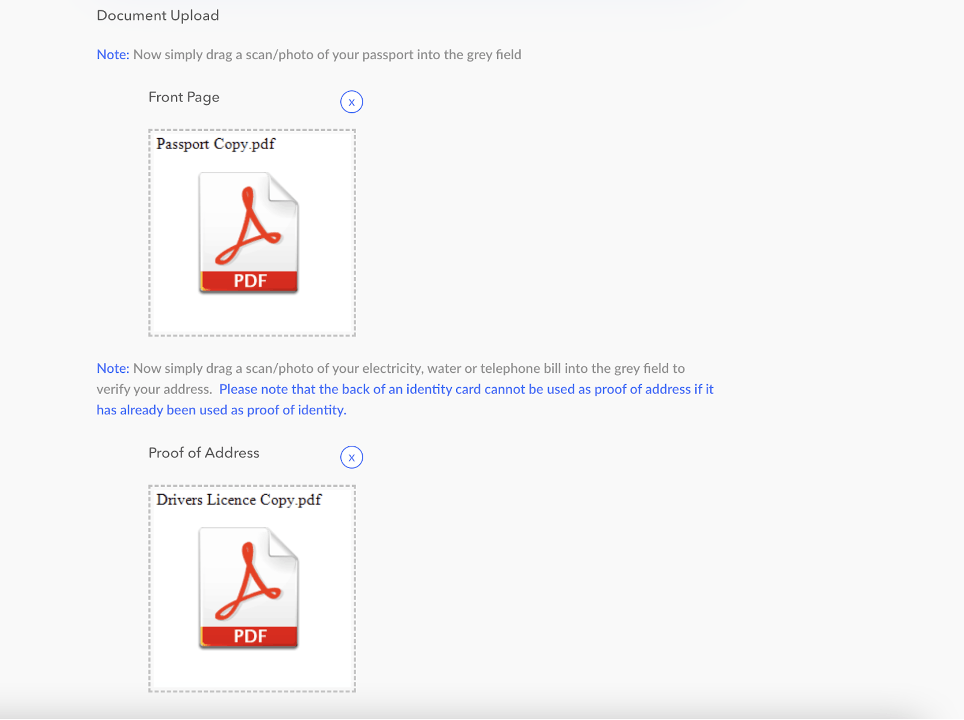 Lastly, to comply with various money laundering and terrorist financing regulations, you will also be required to supply Nextmarkets with a copy of your passport and proof of your address. This proof can be provided in the form of a driving licence, utility bill, or I.D card, provided that your address is written on the document. 
Unfortunately, at the time of writing, Nextmarkets is unable to open any new accounts from the United Kingdom, Isle of Man, or Gibraltar. This is due to changing policies stemming from Brexit and is beyond Nextmarkets' control. 
Once you have completed the application process and submitted the requested documents, you're finished! It should take Nextmarkets no longer than 24 hours to process your application and activate your account!
How to Trade Forex on Nextmarkets
So, you have just gotten your Nextmarkets account activated and want to place your first forex trade? Let's take a look at how you can do just that using the GBP/USD currency pair as an example!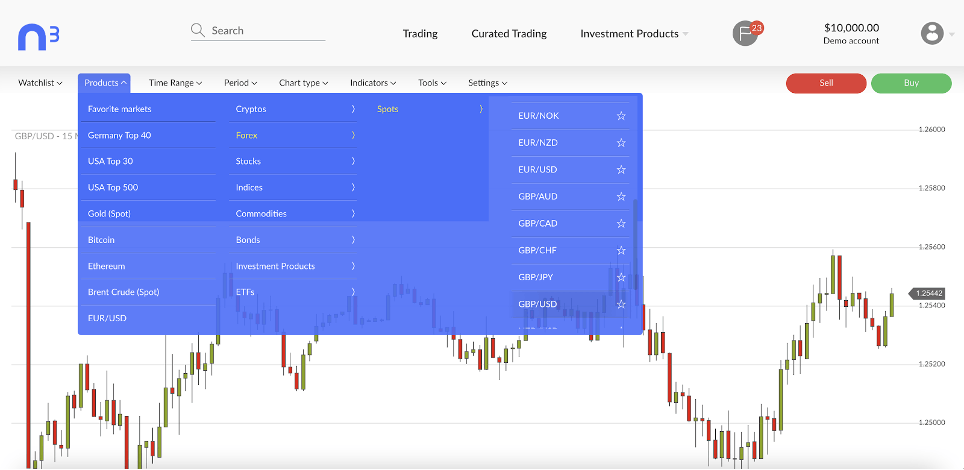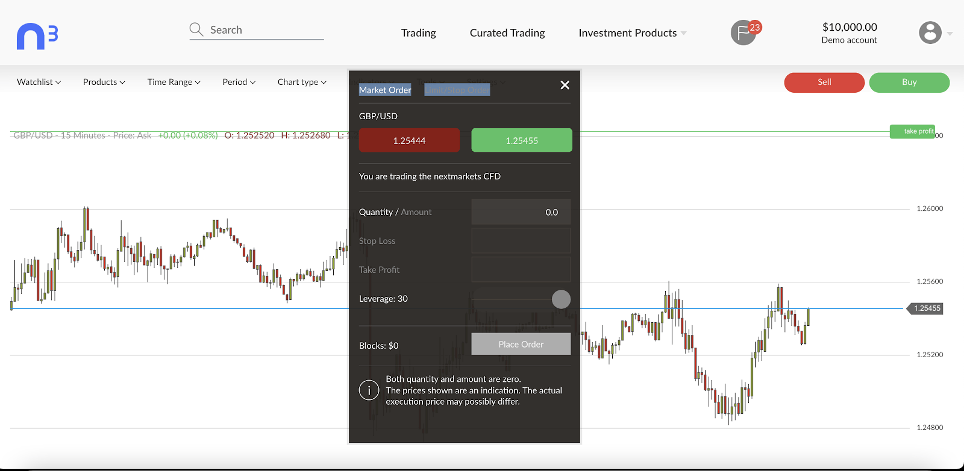 To locate the currency pair, simply head over to the products drop-down menu and navigate through to the currency pair you wish to trade. In this case, as you can see above, we have selected the GBP/USD currency pair. 
After selecting your currency pair, the chart should appear in the center of your screen. At this point, all that is left to do is select "buy" or "sell" thereby activating the trade window pictured above. Once open, you can enter the specifics of your trade and place your order! It's that simple! 
Nextmarkets Customer Support
Nextmarkets' customer support team is generally well-regarded. The team typically reaches out to new account holders over the phone to answer any questions new customers may have and see if there is anything they can do to help. This is a pleasant surprise as most low-cost brokerages do not take this action. Beyond this, Nextmarkets' customer support team can be reached through phone or internal support forms from Monday to Friday between 9.00 am to 18:00 CET.
Conclusion
Overall, we believe that Nextmarkets provides its users with a fantastic brokerage experience. However, we do not believe this brokerage account is suitable for everyone. Due to its simplistic nature and beginner-focused approach, we do not recommend this brokerage for sophisticated investors that are looking to are looking to employ the use of more complex tools and trading strategies. 
 That said, if you are a new or inexperienced investor who is on the hunt for a brokerage platform that offers a wide range of tradable assets, we think Nextmarkets may be the brokerage for you. 
If you are ready to sign up for Nextmarkets today, check out our link here! If you found this Nextmarkets review to be useful and want to read more information on the best brokerages out there, check out our comparison page in the link below!
Unsure if this broker is for you?