Stock Market vs Watches: See Which Is the Best Investment Choice For You
Want to start investing but you're not exactly sure whether to go put your money in the stock market or watches? In this article we'll have an in-depth look at what is the better choice for investment: watches or stocks. We'll also see how some of the prices of some of the popular models evolved in recent years compared to the shares of important companies.
But first, a story about the watch that sold for more than 88,762 times than its purchase price.
The Actor, the Treehouse and the Lucky College Student
 It's 1984 and a young college student by the name of James Cox is helping Paul Newman, the famous actor, build a treehouse. In return for his help, Newman gives Cox one of his watches, because the young college student said he didn't have one. It turns out that it wasn't just any old watch.
In 1968, Joanne Woodward purchased a Rolex Daytona as a gift for her husband, Paul Newman. She paid for it $200. Before giving it to him, she engraved the back of the watch with the text: "Drive carefully. Me". It was a message for Newman after he started developing a passion for racing. The actor wore the watch non-stop for the next decade and a half, appearing with it in numerous photographs. His watch became so well known that the model started to be called the Paul Newman Daytona.
Fast forward to 2017, 9 years after Newman died, Cox decides to sell the watch at auction. The timepiece sold for a record-breaking $17,752,500. That's 88762,5 times more than the purchase price.
That's quite the payday for a simple treehouse.
The Paul Newman Daytona is an exception, but still proof that you can invest in watches and have a good chance of turning a profit.
Why Are Watches a Good Investment
There are several reasons why watches are a good investment. First of all, they are an asset that, over time, has a good chance of increasing its value. This, of course, depends on the brand, model, year of production, if it's produced anymore, state, etc. We will dive deeper into this later on.
Another good reason to invest your money into stocks is that, unlike shares of a company, you can actually wear a watch. It looks good on your wrist and, depending on the manufacturer and model, it also sends a certain message.
You can also leave the watch as an inheritance to your children or grandchildren, also turning it into a family heirloom.
Lastly, you can even turn a watch collecting into a hobby. In time, you can end up with a big collection that, sold entirely, could even end up being more valuable than the individual items. Who wouldn't pay extra, for example, to have all the Rolex models released in the 70s?
Cons of Watch Investment
Now that we've gone through some of the reasons why watches are a good investment, let's go through some of why they're not:
No guaranteed returns – just like with any investment, you can end up losing money
Harder to sell – the more expensive the watch, the harder it is to sell. Let's say that you've bought a $25,000 watch 10 years ago, and now it's valued at $50,000. Finding a buyer will be a challenge, especially if you are in urgent need of money.
Transaction costs – Going back to that $50,000 watch, the best place to sell it is at an auction, where you will have to pay commissions. These can vary anywhere from 2% to 30%
You could get attached to it – whether we want it or not, we get attached to our things. For some of us, it's hard even to throw out an old, raggedy t-shirt that we've had for a few years. But what about a watch that we've purchased 20 years ago and that holds a lot of memories?
Why Are Stocks a Good Investment
The stock market has been around for centuries and, throughout time, it even turned regular people into billionaires – the chances are very slim, so please don't get your hopes up. Still, for over a century it has been the go-to place for people who want to invest some extra cash, either for retirement or for making a big purchase like a home or an expensive car.
The stock market is probably the most popular investment option in the world. It's probably the simplest way to save your income and earn some extra money.
You can either choose to be an active investor or a passive one – just like with watches.
It's never been as easy to become a passive investor as it's been in recent years. Over the past decade and a half, many online investment platforms have emerged (eToro is a good example), making it easy for anyone to buy and sell shares and even earn dividends.
These platforms give users all the tools they need to start investing right away, even if they have no knowledge in the field. Some brokers, like eToro, offer you a social trading option which means you can simply copy other investors who have had good results in the past (although this isn't a guarantee for future profits).
How much money you can make on the stock market depends, again, on several factors, like the company or ETF you invested in, the amount of money invested, etc.
Cons of Stock Investment
As with watches, there are several downsides to investing in the stock market:
Profits are not guaranteed – you could end up losing your investment just as easily as making a profit.
You have to pay fees – just like with watches, selling shares also comes with some costs, like the withdrawal fee that some brokers charge. Still, these are much smaller compared to watches.
How to Invest in Watches
There are several ways you can take when investing in watches. First of all, you can buy the watch directly. If you don't have the money for it, you could invest in just part of the watch through specialized websites. Lastly, you can invest in the watch company of your choosing by buying shares. Let's dive deeper into each of them.
Buy the Watches
The simplest way to go is to buy the watches you want to hold as an investment. You can either buy new watches straight from the manufacturer or resellers or invest in old watches that you can buy on auction sites like Catawiki.
Which watches you should buy depends most of all on your budget. We'll cover this more in-depth below, with suggestions for both investors with a small starting sum or deep pockets.
Buy Fractions of Watches
If you don't have all the money to buy an entire watch, you could just buy a part of it. No, we don't mean just the dial or hands. In the last few years, different investment services have emerged where people can put their money together and buy a watch. Chip is such a service where you can invest in different assets, like watches or even cars, together with other people and later split the profits.  
Buy Watch Company Stocks
If you can't afford the entire watch and feel that crowd investments are too risky, buying shares of watch companies is also a good choice. Today, most of the big watch manufacturers are publicly traded companies, and this means that you can own a small piece of them.
Here is a list of the top 5 most valuable watch companies on the stock market that you can invest in today.
| Company | Watch Brands owned | Invest |
| --- | --- | --- |
| Swatch Group AG | Omega, Longines, Tissot, Rado | Invest now |
| LVMH Moët Hennessy Louis Vuitton | Hublot, TAG Heuer, Zenith | Invest now |
| Compagnie Financiere Richemont SA | Cartier, Montblanc, IWC, Piaget | Invest now |
| Garmin Ltd | Garmin | Invest now |
| Ralph Lauren Corporation  | Ralph Lauren | Invest now |
How to Invest in Stocks
Investing in stocks is even easier. The first thing you need to do is find the right broker. Depending on your goals and budget, this might depends. But, to make things easier, you could use our investment broker comparison page. Just answer a few questions, and we'll show you which platforms best match your current needs. Next, visit their website and open an account.
Now that you are ready, the only thing left to do is find the best assets to invest in. If you're going to be a passive investor, your best options are going to be either stocks or ETFs. 
Buying Stocks
The most popular choice for investors is stock or shares. By buying these, you basically own a small part of a company. Stocks should rise in value in time, and so, in a few years, or maybe even months, you can sell them at a profit.
Some stocks can also help you make additional passive income through dividends. These are portions of the profit that are paid out by the company each year to shareholders. Dividends are anywhere between 1% and 10-15% of the share price. But, as a rule, you're better off investing in companies with smaller dividends. The payouts are more regular, and they also increase over time. These companies are called dividend aristocrats, and you can learn more about them here.
Buying ETFs
ETFs are another popular choice. Unlike stocks, ETFs are made up of shares from more companies, usually from the same sector or index. These are usually considered safer bets than stocks but have a smaller return. Popular ETFs include SPY - which mimics the S&P 500 index (US stock market), FTSE – which tracks the top 100 companies on the London Stock exchange, and VIG – made up of US dividend-paying companies.
Just like stocks, you can purchase ETFs from all major investment apps on the market.
Watch Returns vs Stock Returns
How much money you will make on a certain timepiece, if any, depends, just like with stocks, on various factors. Below we are going to take a look at some price evolutions, in recent years, for both stocks and watches.
Watch Returns
Measuring the price evolution of watches over time is nearly impossible. While there is a clear record of the stock market evolution, not the same can be said about timepieces. Mostly, probably, because such services, that track prices, have only been developed in recent years. Thus, it is probably impossible to determine how the price of a 1950s Rolex evolved over time.
Below, we are going to show you the price evolution of several watches using Watchcharts.com, over a 5-year period – the maximum possible.
Seiko Prospex Alpinist Ginza 140th Anniversary Limited Edition
Seiko has increased in popularity in recent years and so a few of their models rose above retail price. This Seiko timepiece was released in 2021 and only 3.500 pieces were made and had a retail price of $750. As you can see, the value on the reseller market nearly doubled in about a year.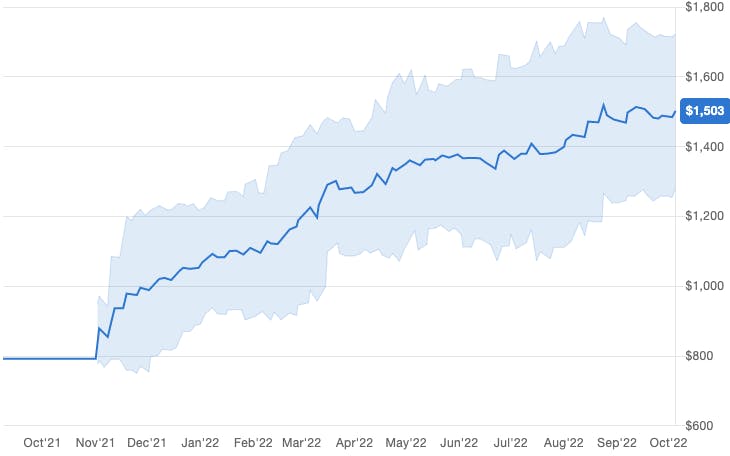 Omega Seamaster De Ville
The Omega Seamaster De Ville is a timepiece released in 1962 that, according to Watchcharts.com has more than doubled in value in the last 5 years. Valued at $521 at the end of 2017, thew average resale price of this Swiss watch is now $1,146.
Rolex Datejust 31 (68240)
The Rolex Datejust31 dates back to the 1990s that could have brought in a small fortune for anyone trading it in recent years. As you can see from the chart, The average price in 2018 was around $3,200. It started to slowly rise until April 2022, when it spiked at almost $10,000, before coming back down to $5,450.
Patek Philippe 5960G
Our last example is this Patek Philippe which has been tracked on Watchcharts.com since October 2020, when its value was of around $50,000. For the next 8 months, the value slowly declined to around $47,600, before going back up again. Two years later, the Patek Philippe 5960G is valued at around $62,500, a 25% increase in value in one year.
Although we have shown some models who did register a rise in value, there are numerous other watches that went down in the past 5 years.
Stock returns
For a fair comparison, we took some of the most popular companies from the US stock market and tracked them for the same 5-year period.
Tesla
Tesla has probably been the most popular stock in recent years. As such, there was a lot of volatility around Tesla trading. As you can see from the chart below, 5 years ago, Tesla was trading at around $23 per share. The company started rising in popularity in mid-2020 and reached its all-time high in November 2021 - $407 per share, before dropping to its current level of $238. So, in just 5 years, Tesla's stock price rose by 10 times – probably more than any watch.
Apple
Apple is one of the best-known brands in the world and, as such, attracts a lot of investors. putting your money into Apple stock would have also been a good choice. In late 2017, Apple shares were worth $40. After 5 years, the same shares are worth $140 – 3.5 times more.
Amazon
Amazon, the biggest online retailer in the US, also attracts a lot of investors. If you were one of them, you would have doubled your money in the last 5 years. The stock price went from $50 in October 2017 to 120 in October 2022, with an all-time high on $183 reached in November 2021.
Microsoft
Last on our comparison list we have Microsoft, a company that needs no introduction. The value of Microsoft shares tripled in the last 5 years, from $77 to $246. As will all the above mentioned stocks, Microsoft also reached an all-time high in 2021. In November that year it was trading at $343, 4 time higher compared to October 2017.
Just like with watches, there are numerous other companies on the stock market that went down in value. Some of them even went bankrupt, meaning that you would have lost all your money.
Direct Comparison
Now let's take a side-by-side look at one of each: the Omega Seamaster vs Amazon.
Let's pretend that in October 2017 you spent $521 on the Omega Seamaster. If instead, you would have used that money to purchase Amazon shares, you would have been the proud owner of 6.77 shares. Now let's see how your investment would have evolved over time.
In the first 3 years, The Omega Seamaster price remained almost the same. Amazon, on the other hand, was trading at around $150 in October 2020, meaning that the value of your shares would have been of around $1,020 - almost double.
Less than one year later, Amazon stock price peaked at around $185, bringing your total investment to $1,252. At the same time, the Omega watch was 'just' $1,000.
The Omega price peaked in March 2022, at a little over $1,200, while Amazon dropped to $145 per share.
Today, your Omega investment would be worth $1,146, for a total profit of $625. Your Amazon investment, on the other hand, would now be worth $765, with a profit of 'just' $244.
Remember that this is just an example - anything can happen over the next 5 years and you might end up actually losing money.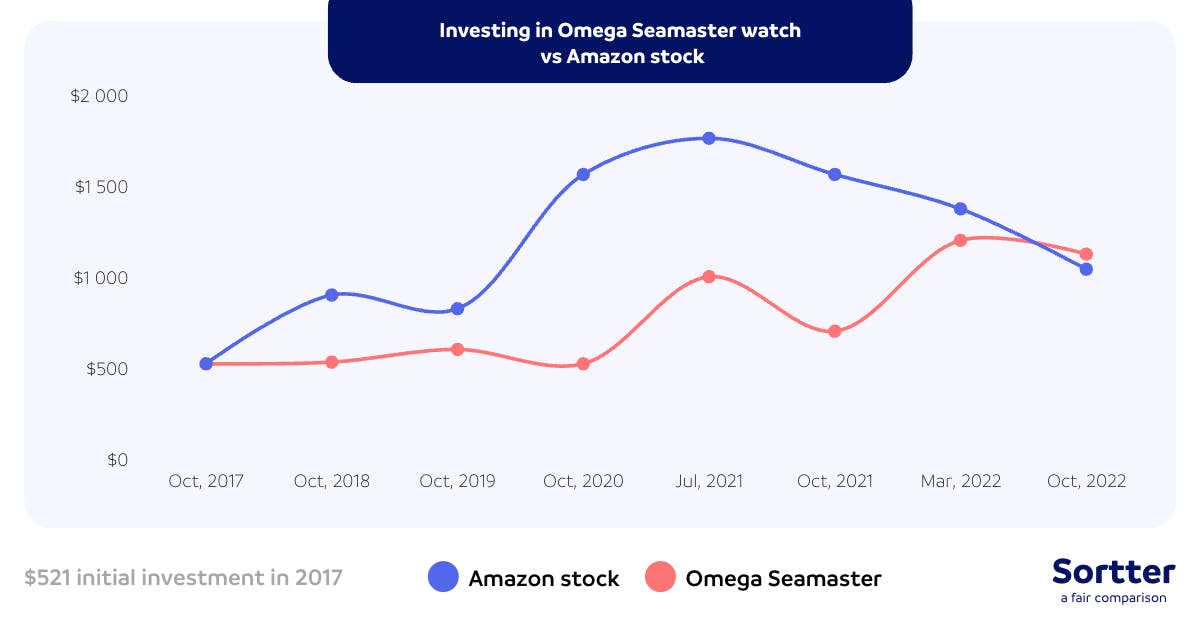 Best Watch Brands to Invest In
Not all watch brands, or models, make good investments. In fact, many of them end up losing value over time. Still, some brands keep, and increase their value over time.
Rolex
Rolex is probably the most popular luxury watch brand right now. And has been for decades. Rolex is the synonym for high-quality Swiss watches.
The company was founded in 1905, and in the past century, it made a name for itself not only through quality but also the progress of timepieces. For example, in 1926, the Oyster case was the first reliable waterproof case based on a screw-down crown. Nearly 2 decades later, Rolex released the first chronometer wristwatch with an automatically changing date on the dial.
Some of the models that work investing in are the Submariner and Daytona.  
Patek Philippe
Patek Philippe is probably the last family-owned Genevan watch manufacturer. Like Rolex, it is also synonymous with luxury watches. They manufacture their own components and, throughout its nearly 2 centuries of existence, patented many inventions. For example, it was Patek Phillipe that created the first Swiss wristwatch back in 1868. The company also invented the double chronograph and even introduced the first annual calendar on a wristwatch.
Patek Phillipe watches are considered by many experts to be the finest in the world. The most popular models to consider investing in are Patek Philippe 5170 Chronograph, the Chronograph ref. 5980 and the Nautilius luxury sports line.  
Omega
Yet another Swiss luxury watch manufacturer, Omega, also stands out through the quality of its timepieces. In fact, Omega holds more precision records than any other company in the industry.
Omega also stands out as a brand that is very popular in pop culture. The Omega Speedmaster was the first watch to land on the moon – with the help of Buzz Aldrin, on July 20, 1969. It's also James Bond's watch of choice, with the Seamaster model being worn by Daniel Craig in many of his recent films.
The best Omega models to invest in are the Seamaster, Railmaster, and, of course, the Speedmaster.
Tag Heuer
The last Swiss manufacturer on our list is Tag Heuer. The brand doesn't focus so much on finesse but rather on performance. That's why you probably see it as the official timekeeper in so many sports.
The brand was also made popular by its numerous sports and Hollywood ambassadors. Cristiano Ronaldo, Ayrton Senna, Brad Pitt, Lewis Hamilton, and Steven McQueen are just some of the names that endorsed the brand in the last half a century.
The Carrera, Monaco, and Formula 1 are some of the most sought-off Tag Heuer Models.
New watches vs Used Watches
You might be wondering if you should invest in new watches or old watches. The answer is both. With new watches, you want to wait for a certain model to go out of production. As soon as it does, the resell price has a good chance of going up. Keep reading to see an example of how high the resale price of a Patek Philippe went after the model was discontinued.
With old watches, you could try to create collections around a certain theme. For example, you could start buying Rolexes made in the 50s and sell them as a complete collection. Their collective value will be much higher than the individual ones put together.
Or, you could simply buy a 50-year-old Patek Phillipe, hold it for 30 years, and resell it for a profit – chances are the price will go up by that time.
How Much Do You Need to Start Investing in Watches
You could buy a decent watch for as low as $100, but don't expect that to grow in value over time.
To begin investing in watches, you would need a capital of at least $1,000 to $2,000. With this money, you could buy a brand-new Tag Heuer or an old Rolex.
Just keep in mind that if you have just $1,000, you can only buy one watch, and your money will be frozen there until you can turn a profit. If you start off with $10,000, you could buy more watches and increase your chances of turning a profit sooner – at least from one of the timepieces.
How Much Do You Need to Start Investing in Stocks
Unlike watches, you could start investing in the stock market with just $1. Yes, there are brokers that have no minimum deposit and allow you to buy fractional shares with as little as a dollar. Of course, you can't expect to turn that dollar into a small fortune.
The advantage of investing in the stock market is that you can invest little by little each month, depending on your budget. You could set aside $50, or $100 or how much you can spare and just invest it. You can use brokers like eToro or Trading 212 that can help you invest it automatically.
When Does a Watch Increase in Value
There are several factors that make a timepiece go up in value over time. Below we are going to explain the most important ones.
Scarcity
Scarcity influences the prices of everything, not just watches. So the rule applies here as well: the fewer the pieces from a certain model, the higher the value. This is especially true for a watch that also matches any of the categories below. 
Discontinuation
When a certain model is discontinued, its price shoots up immediately. Why? Because from that point on, the number of watches in circulation will only go down and that timepiece becomes a part of history.
The Patek Philippe 5711 is a great example. In January 2021, the company announced it would stop manufacturing the model. In just a matter of days, its value increased from $60,000 to $90,000. That's a 50% increase in less than a week. 
Aesthetics
Aesthetics are very important for watch collectors. Sometimes, they purchase timepieces that fall into a certain theme, like all blue dials, and then they sell off the entire collection.
Sometimes, important brands release a watch that are completely different than what you would normally expect from that brand. Again, collectors jump at the opportunity to own such an unusual piece.
Celebrities
Lastly, celebrities are also a great influence. Whether it's watches, sneakers or sunglasses, whatever they are wearing everyone else wants. Remember the Paul Newman Dayton from the beginning of the article? That is an excellent example.
When Does a Stock Increase in Value
While the reasons for watch prices going are mostly subjective, things are mostly different in the world of stocks. Still, you can sometimes see spikes or drops in share prices based on sentiment.
Market Sentiment
Because stocks are traded by humans, sometimes prices are affected by people's emotions. For example, if traders start hearing rumors about a company, they might start overbuying or overselling the shares – depending on whether it's good news or bad news.
Supply and Demand
Supply and demand is probably the biggest factor that influences stock prices, especially short-term. For example, if there are many traders looking to buy Google shares but there are too few available, the price will go up. On the other hand, if there are many shares for sale and not a lot of traders looking to buy, prices will go down.
Company Fundamentals
Lastly, the company fundamentals, or the way the company is performing, is the last big factor.
If a company reports better-than-expected earnings, the stock price will go up, and vice versa. If traders believe the company is going to report a bad quarter, they will probably sell their shares at a lower price now, rather than wait for the earnings to be announced and stock prices to go down even more.
This is also the case if the company changes its board of directors, launches a new product or simply undergoes a rebranding process.   
When to Invest in Watches vs Stock
This depends solely on your goals and your budget. Just keep in mind that the two aren't mutually exclusive.
As you saw above, you would need at least $1,000 - $1,500 to invest in a watch that has a chance to go up in value over time. But what if you need a few months to put together that kind of cash? Then, your money would just sit unused. So, what you could do is invest them in the stock market little by little and when you have enough just take them out and buy a watch. Maybe by that time, the stock has gone up in value and you could even turn a profit.
Wrapping It Up
Just like stocks, watches could bring you a nice return on your money. The only downside is that you would need a bigger starting capital.
To buy a watch that has a chance of going up in value you would need at least $1,000 whereas for stocks you could just start with $50. Also, keep in mind that it takes more time to sell a watch and the fees could be higher – if you sell it overseas you might end up paying $100 for shipping.
The best way to go is to probably invest in both watches and stocks. With watches, you need to do a lot of research before making your first purchase but with stocks, you could just use some automated investment functions offered by the broker.
Find the best investment broker for you
Compare investment brokers